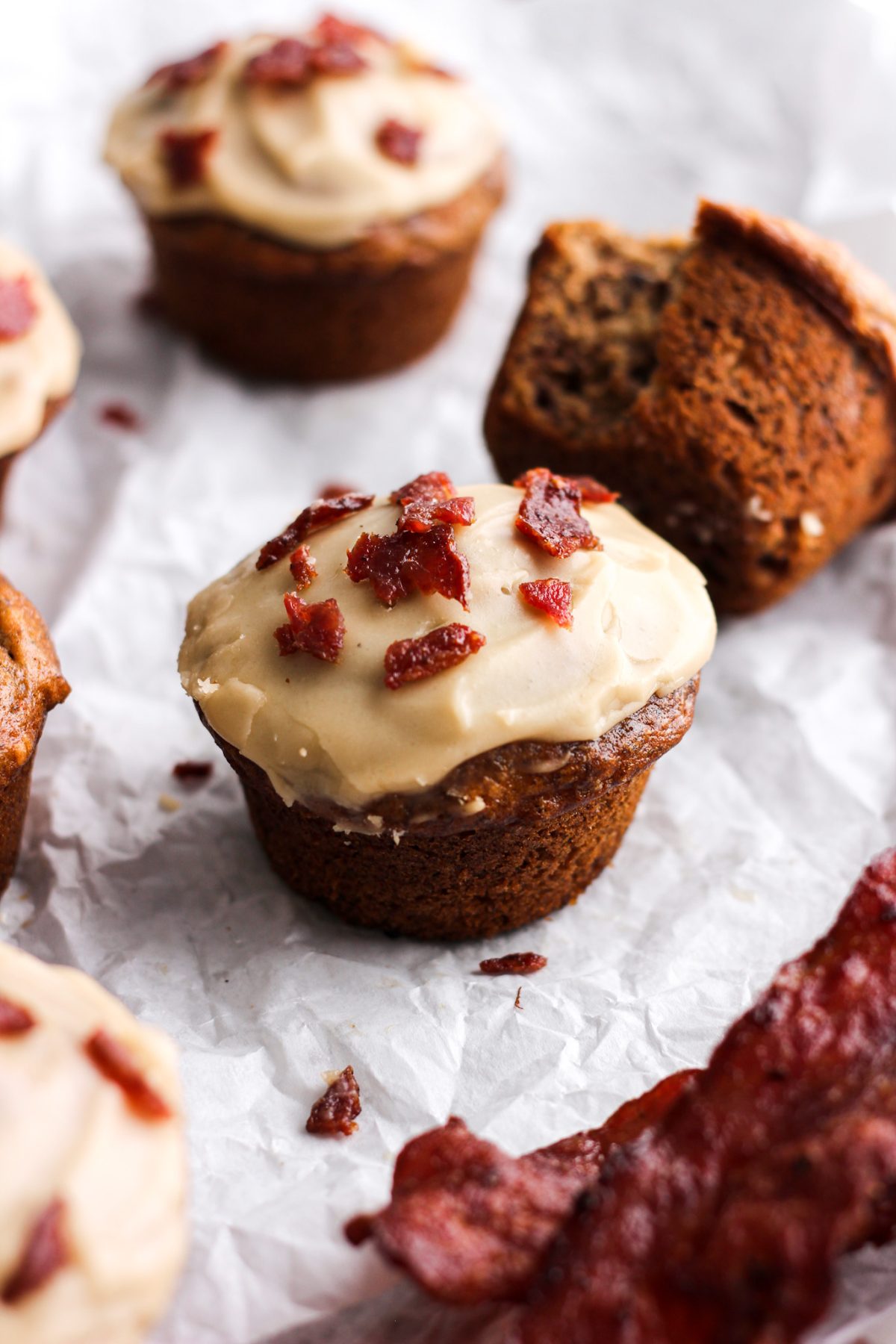 You're going to love these Banana Maple Pecan Muffins. These moist muffins are dipped in maple frosting and topped with crunchy bacon.
If you love a sweet and salty combo, this recipe is for you! The balance between the sweetness of ripe bananas and pure maple syrup with crunchy, salty bacon is perfection.
Sweet and Salty Muffin Heaven!
Drumroll please... I'll wait! These sweet and salty breakfast muffins need an extra special welcome for their debut on Baked Abundance.
Here's what makes these banana maple pecan muffins GREAT:
Fluffy and moist banana bread muffins
Sweet maple glaze
Crumbly bacon cooked in a cast iron skillet
And nutty chopped pecans
Make these bakery-style, heavenly muffins for a weekend brunch or to say goodbye to those Monday blues. I am convinced that a bite of one of these maple glazed bacon banana muffins will cheer anyone up! This recipe is good for the soul and feels like your grandma made you the best banana bread muffin in the world!
So the idea of a banana muffin with sweet maple frosting, crispy bacon crumbles and crunchy pecans sounds a bit over the top. But let me tell you, it is the best dang banana muffin you'll ever make! Think a maple bacon cupcake meets a pecan maple log donut and they had a baby... it's these muffins!!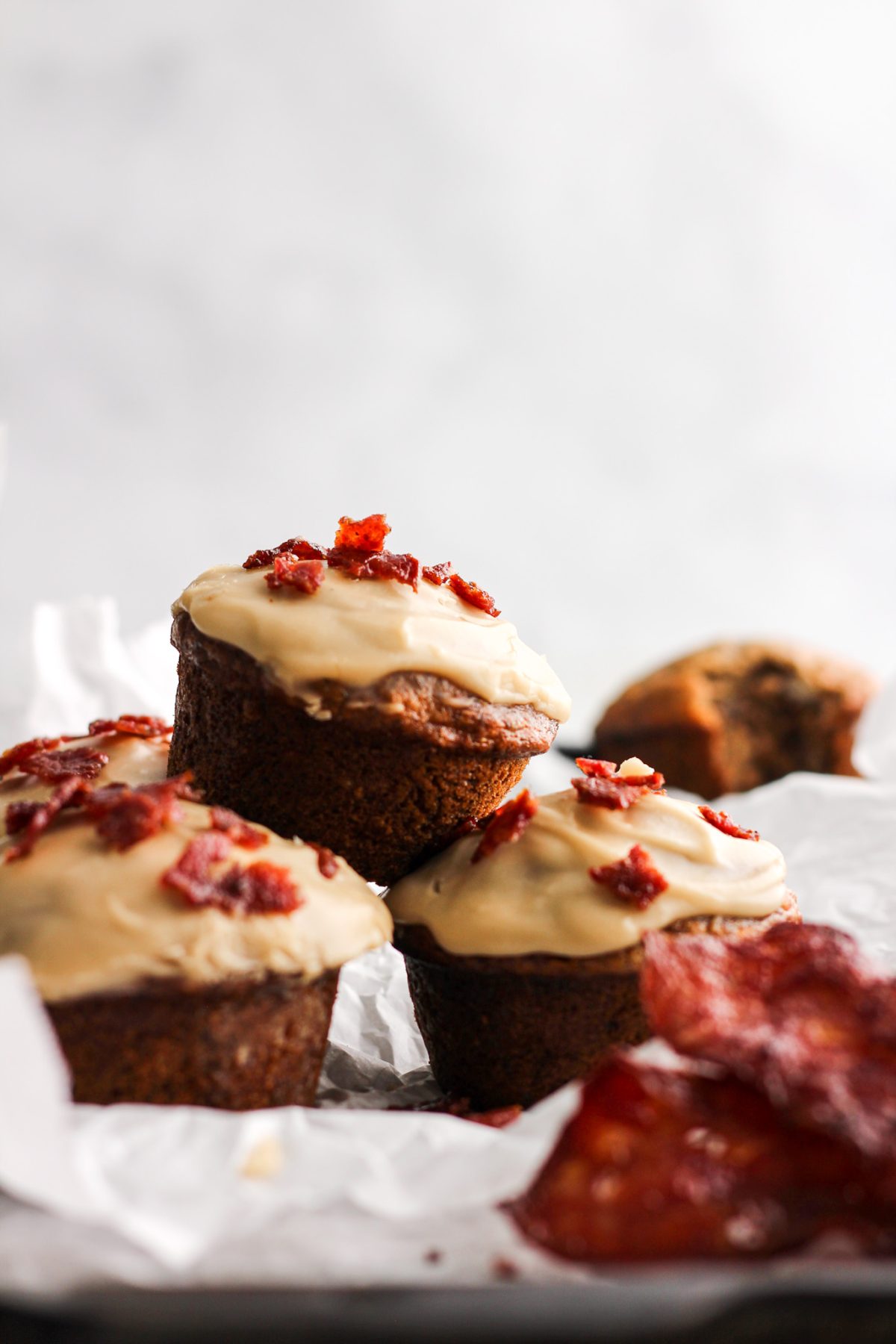 Let's Make Banana Maple Pecan Muffins with Bacon!
Although the name of this recipe sounds a bit complex, these banana muffins are actually super easy to make!
First, you'll need five ripe bananas. (I don't recommend using less bananas as the batter won't turn out as flavorful or moist.
Add your ripe bananas to your mixer along with two eggs and ¾ cup brown sugar. Mix until combined and the bananas are mashed. Next, add in your flour, baking soda and cinnamon. Use the measuring spoon to swirl the baking soda and cinnamon into the flour before turning on your mixer. This step helps incorporate the baking soda into the flour. Partially mix in the flour for a few seconds, but do not mix completely.
Lastly, melt a stick of salted butter on the stovetop or in the microwave and add to your batter. Pour your melted butter into the muffin batter and mix for a few more seconds. Use a rubber spatula to scrape down the sides of the mixing bowl if needed.
A tip to remember when making any muffin recipe is to not over-mix the batter! Mix until just combined.
Now, bake your banana muffins and let them cool before dipping the muffin tops into the homemade maple glaze. To make the maple-infused frosting, melt ¼ cup of salted butter and add to a mixing bowl. To the butter, add confectioners' sugar, pure maple syrup, maple extract, vanilla extract and a pinch of salt. Use a whisk to combine the ingredients into a smooth and silky glaze. When the muffins are cooled, dip them into the maple glaze or use a small rubber spatula to spread the frosting on top.
Everything You'll Need
Muffins:
Bananas: Super ripe bananas with spotted skin are best for this recipe. Ripe bananas are easy to mash and are super sweet which makes them perfect for breads and muffins!
Flour: We recommend using all-purpose flour in this recipe to keep these muffins light and fluffy. You can opt for 1 to 1 gluten-free baking flour if you'd like to make this recipe gluten-free.
Brown Sugar: This stuff makes baked goods taste rich and sweet like something your grandma would bake and we are here for it!
Baking Soda: This ingredient helps the muffins rise while baking for an airy texture.
Cinnamon: Baked goods are how we make it through the tough days and cold months. A pinch of cinnamon just warms the soul, ya know?
Eggs: This recipe calls for eggs to bind the ingredients together to create a thick and velvety banana bread muffin batter.
Butter: Melted salted butter adds another element to the sweet and salty saga. This is the fat source in this recipe and makes these muffins moist!
Bacon: I don't think bacon needs an explanation here... because it's BACON! 'nuff said.
Pecans: A little crunchy, nutty topping that makes these banana muffins extra special.
Salt: A pinch of salt helps balance out the sweetness in this muffin batter.
Glaze:
Confectioners' Sugar: You can't really make icing or frosted glaze without confectioner's sugar. Okay I'm sure there's some kind of loop hole, but we're sticking to the classics in this recipe! Use a sifter to make your sugar extra fine if you're feeling fancy.
Pure Maple Syrup: Grab your pure maple syrup to add more maple flavor and natural sweetness to the glaze. This liquid gold also helps make a sweet, sticky glaze when mixed with confectioner's sugar!
Maple Extract: This is a game changer! You can leave out the maple extract if you don't have it, however a tiny amount of extract adds tons of maple flavor to the glaze! We're talking about that local bakery maple donut kind of glaze.
Vanilla Extract: Don't leave out the vanilla extract!
Brown Sugar: The taste of confectioner's sugar on its own is fine, but mixed with a little brown sugar?! Now we're talking!
Butter: You beat butter and sugar together when making a traditional buttercream frosting, so it only makes sense to add some melted butter to this maple glaze frosting! Butter helps the glaze come together and set up in the fridge.
Salt: Add a pinch of salt to the glaze to balance out the sweetness from the sugars.
Need to make a substitution?
No Maple Extract?
You can still make a delicious glaze for your bacon banana muffins, however the flavor will not be as strong without the maple extract. I'd recommend using ⅓ cup of pure maple syrup and ½ teaspoon vanilla extract if you don't have maple extract.
No Pecans?
Chopped walnuts would make a good substitute for pecans in this recipe.
How Many Ripe Bananas Do You Need?
These banana nut muffins call for 5 small ripe bananas.
(Although I haven't tested it, I imagine you could substitute some unsweetened applesauce for one or two of the bananas if you're short. I'd recommend using ½ cup applesauce for one banana. The banana flavor will not be as powerful and the texture will differ with applesauce, but you should still get a nice muffin.)
Want a Healthier Muffin?
These indulgent muffins are a treat for a special occasion or weekend brunch!
However, you can always substitute some whole wheat or oat flour for the all-purpose flour, use melted coconut oil instead of butter or try swapping coconut sugar, honey or maple syrup for the brown sugar if you want to make this recipe healthier.
Leave a comment below if you make this recipe with any of your own modifications! I'd love to hear what worked for you.
More Delicious Breakfast Recipes
If you make these banana maple pecan muffins, be sure to tag #bakedabundance on Instagram. We'd also love if you would leave a comment below and rate the recipe. We appreciate you!
Print
Recipe
Banana Maple Pecan Muffins
You're going to LOVE these Banana Maple Pecan Muffins. These moist banana muffins are dipped in maple frosting and topped with crunchy bacon and pecans. If you love a sweet and salty combo, this recipe is for you!
Author: Marley Braunlich
Prep Time:

10

Cook Time:

25

Total Time:

35 minutes

Yield:

1

2

1

x
Banana Muffins:
5

small ripe bananas

2

large eggs

½

cup

salted butter, melted

¾

cup

brown sugar

2

cups

all-purpose flour, spooned and leveled

1 ½ tsp

baking soda

1 teaspoon

cinnamon

⅓

cup

pecans, chopped

½ teaspoon

salt
Maple Glaze:
¼

cup

salted butter, melted

¼

cup

pure maple syrup

1

cup

confectioners' sugar

1 tablespoon

brown sugar

¼ teaspoon

maple extract (optional, but highly recommended)

¼ teaspoon

vanilla extract
pinch of salt
Topping:
Instructions
Muffins:
Add ripe bananas, eggs and brown sugar to a mixing bowl and beat until combined and bananas are in small chunks.
Stir together flour, baking soda, cinnamon and salt and add to mixing bowl. Turn on your mixer and pour in melted butter at the same time.
Mix batter until just combined. Fold chopped pecans into batter. Don't over-mix. Use a rubber spatula to scrape the sides and bottom of the bowl.
Spray a nonstick muffin tin with cooking spray and use a large scooper to scoop muffin batter into tin. Makes 12 large muffins.
Bake banana maple pecan muffins at 350F for 25 minutes (convection oven) or until a toothpick inserted in center comes out clean. Edges will be golden brown. Cool muffins completely before dipping in glaze.
Glaze:
Add all of the glaze ingredients to a mixing bowl. Use a whisk to mix until smooth with no clumps.
Once muffins are cooled, turn them upside down and dip the tops into the glaze to coat. Or use a small spatula to spread the glaze over the muffin tops.
Finally, top muffins with crumbled bacon and extra chopped pecans if desired.
After adding the glaze and bacon, cover and store muffins in the fridge for up to 5 days. Muffins can be left at room temperature for up to 3 days if not topped with bacon.
Notes
Turkey bacon is also amazing in this recipe!
Adjust the glaze consistency to your liking by adding more powdered sugar for a thicker glaze or adding less sugar to make a maple drizzle. The maple extract is recommended for a stronger maple flavor.
Nutrition facts are for muffins only, not including the glaze or bacon.
Nutrition
Serving Size:

12

Calories:

254.51kcal

Sugar:

15.55g

Sodium:

173.76mg

Fat:

10.98g

Saturated Fat:

5.39g

Carbohydrates:

36.61g

Fiber:

2.07g

Protein:

4.03g

Cholesterol:

51.36mg
Keywords: banana maple pecan muffins, maple bacon banana bread, maple glaze, banana nut muffins