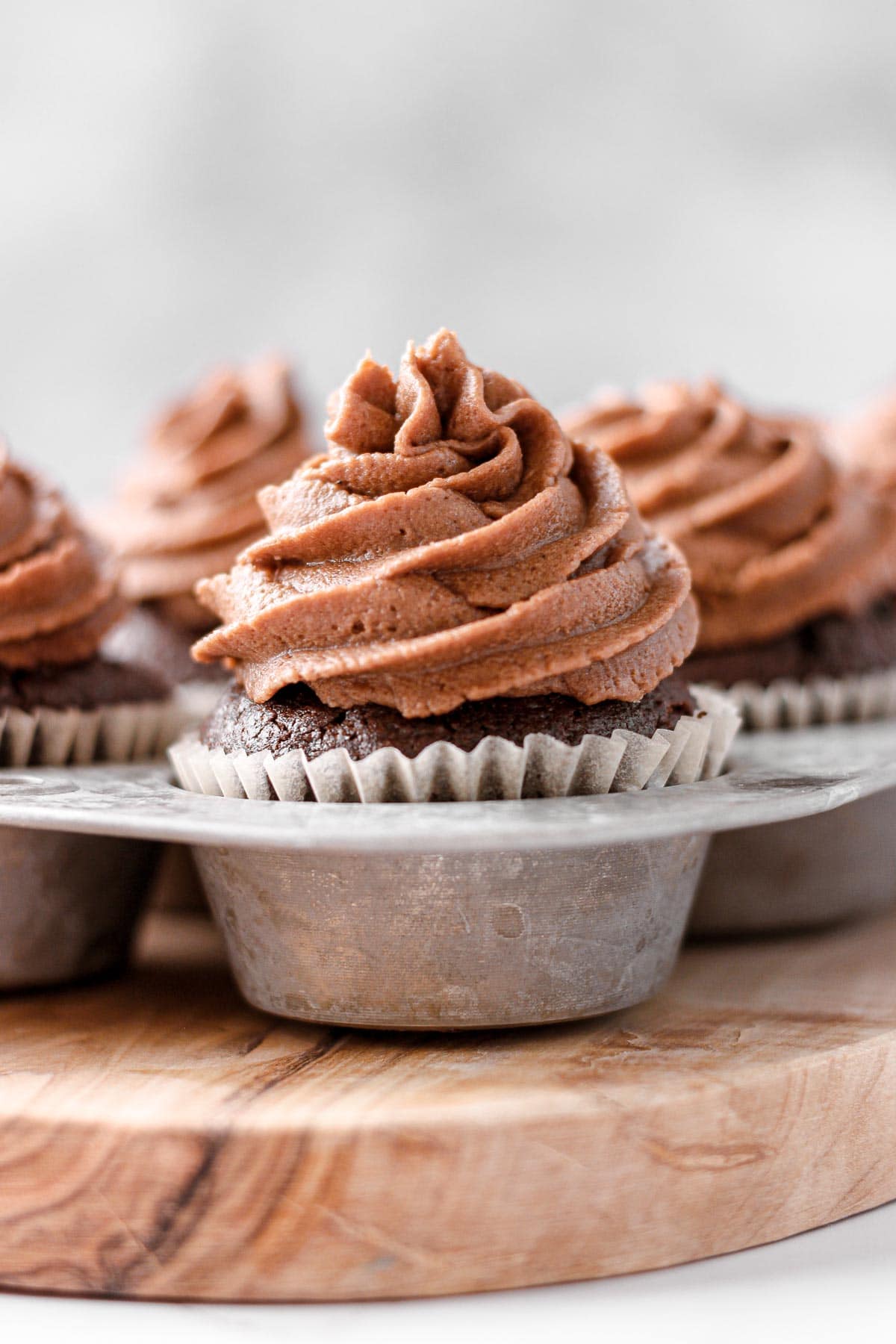 These chocolate cupcakes are easy to make from scratch, topped with sweet chocolate buttercream frosting and you don't need buttermilk! What's not to love?!
Rich cocoa powder gives these cupcakes an intensely decadent flavor. This is the only double chocolate cupcake recipe you'll ever need!
Make a half batch to get six cupcakes, or use the "2x" feature on the recipe card to double the recipe and make 12 cupcakes. You can also customize the flavor variations by adding a fun filling like diced strawberries or caramel sauce.
Jump to section: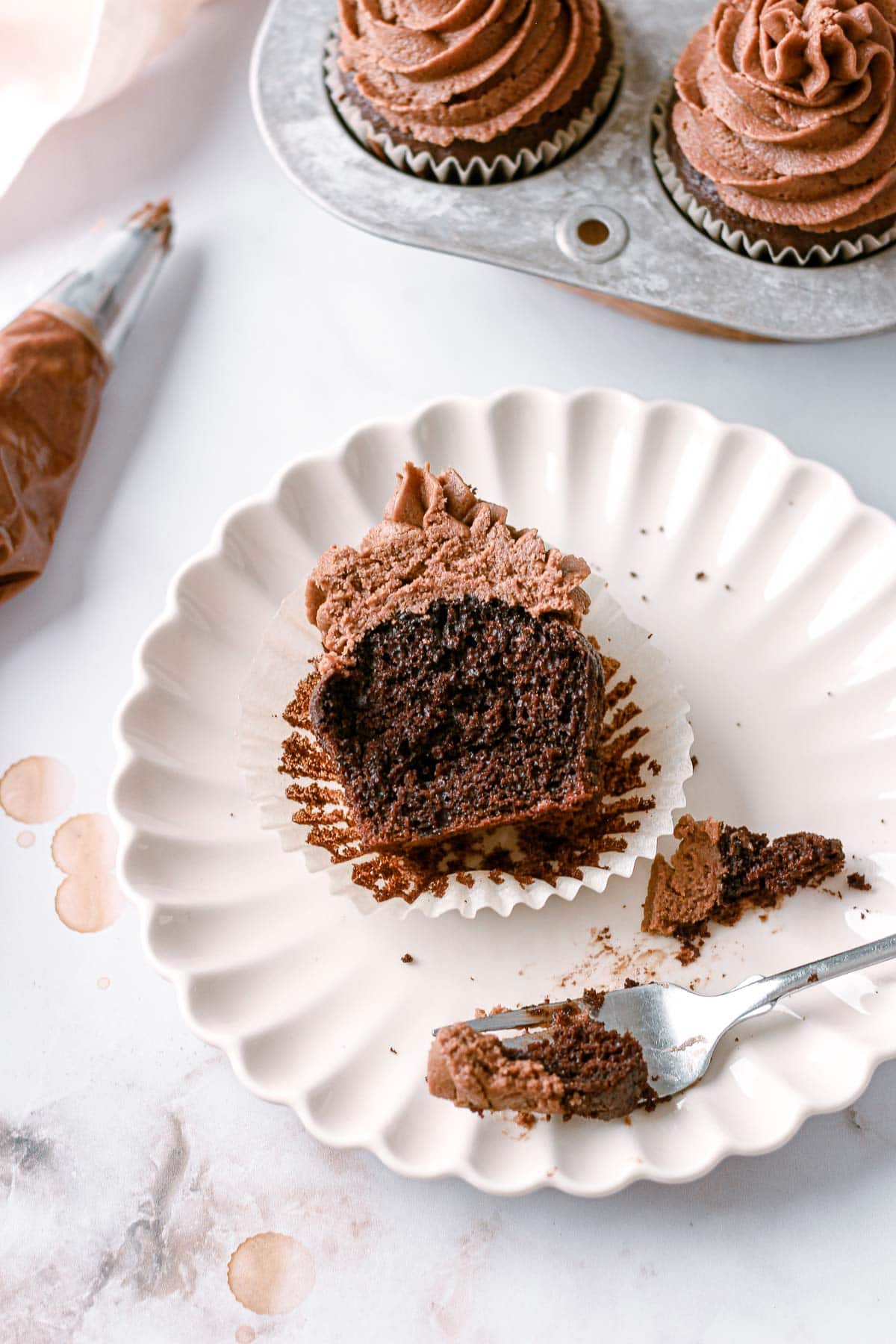 Easy Chocolate Cupcakes For Two
Growing up, I was never a huge cake person. As a kid, I definitely remember enjoying the frosting much more than the actual cake. These days I prefer slightly less sweet desserts and I actually really enjoy the cake now!
These chocolate cupcakes have such an amazing, light and fluffy texture. They are just sweet enough because I cut down on the granulated white sugar in this recipe. Cocoa powder makes these cupcakes rich and chocolatey.
I like to make this half batch cupcake recipe for me and my boyfriend. We find that six cupcakes are the perfect amount to share between the two of us for the week. Small batch cupcakes are also a great way to enjoy a special dessert without overindulging.
Made in One Bowl, From Scratch
The best part about making cupcakes at home is that you only need one bowl and a whisk to combine all of the ingredients. Desserts that are easy to make and require less clean up are such a lifesaver when you're craving something sweet.
I'm usually a messy baker in the kitchen and I often spill flour and sugar on my countertop. Baking is fun, but cleaning up and putting away all of the ingredients… not so much. Baking cupcakes from scratch is much simpler than you might think! So grab your mixing bowl and a whisk and let's get to it.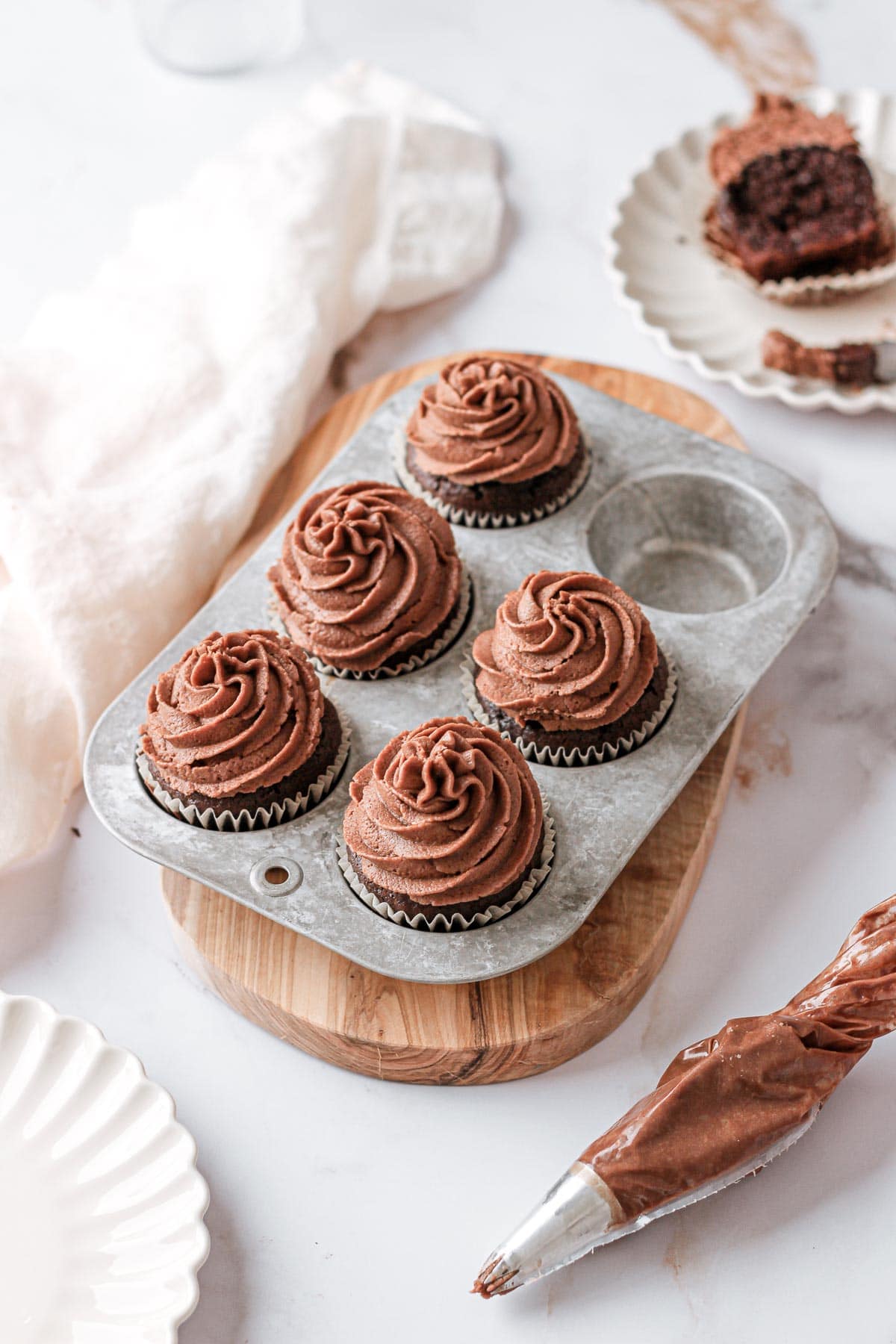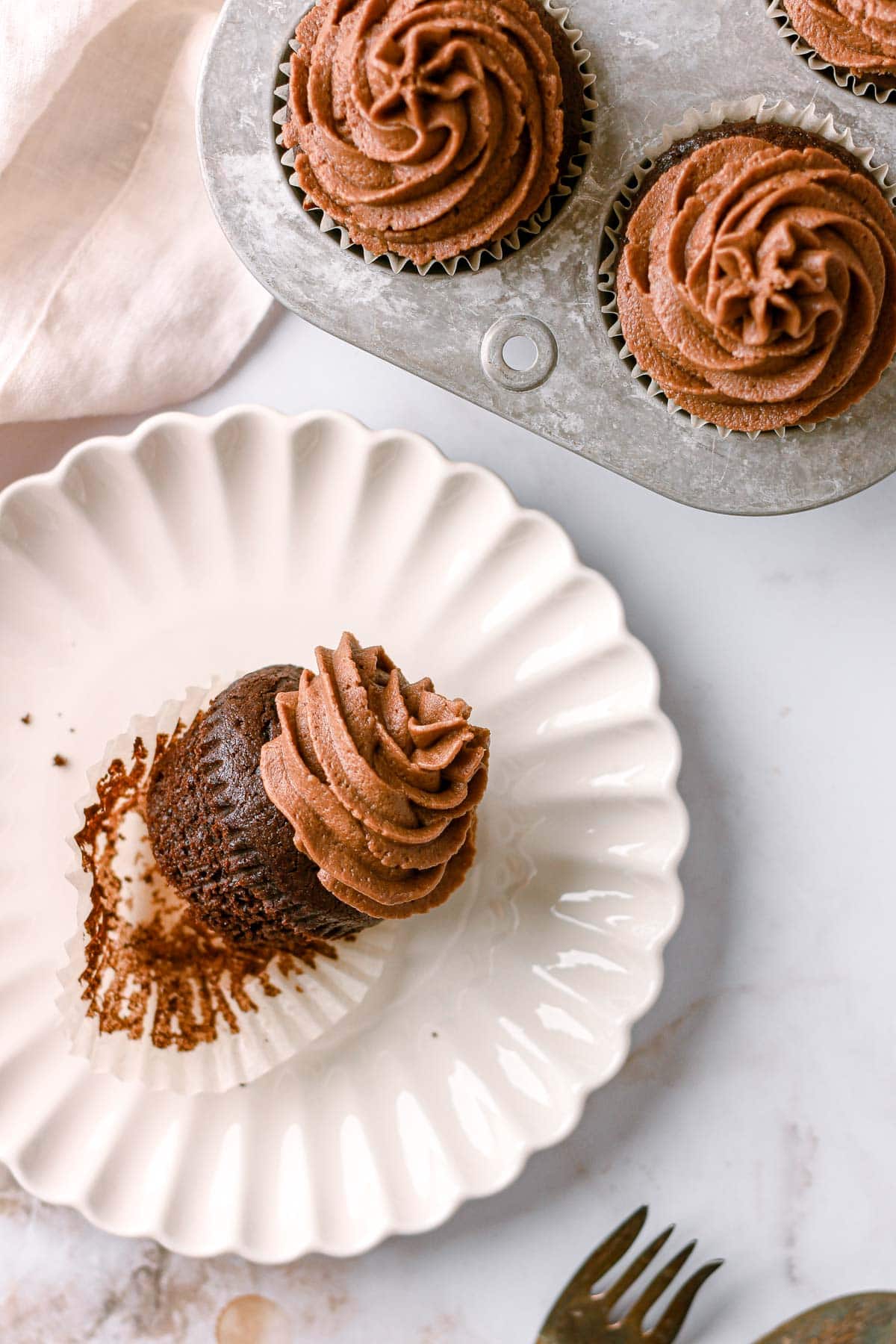 Step-by-Step Instructions for Double Chocolate Cupcakes
To start making these easy chocolate cupcakes, thoroughly whisk the egg in a mixing bowl until it is slightly frothy. Add the granulated sugar, oil and vanilla extract to the egg and whisk to combine.
In a liquid measuring cup, add the milk and vinegar and let rest for a few minutes.
Next, spoon and level the all-purpose flour and cocoa powder. The spoon and leveling technique helps you get a more accurate measurement when using measuring cups. Add the dry ingredients to the mixing bowl and gently whisk to combine.
Use a rubber spatula to fold the ingredients until they are just combined. Over-mixing the cupcake batter creates a denser cupcake. One tip to make sure you can easily mix in your dry ingredients is to sift your flour to remove any lumps. Sifting adds air into the flour which can create a lighter crumb and texture. Another benefit of using a sifter is that it helps to incorporate dry ingredients such as flour, cocoa powder, baking powder so they are evenly distributed.
Once your smooth and silky cupcake batter is ready to go, line a muffin tin with parchment cups and spray with nonstick cooking spray. Use a cookie scoop to fill the muffin cups about ⅔ of the way full. This recipe makes 6 regular sized chocolate cupcakes. However, if you'd like to make a full tray of cupcakes, simply click on the "2x" button on the recipe card to double the ingredients so you can make a dozen cupcakes.
Pop your cupcakes into the oven and bake until a toothpick inserted in the center comes out clean or with little crumbs. The centers should no longer be jiggly. Depending on your oven, ingredients and altitude, your cupcake tops may be more flat or more rounded. Either way, you should have a delicious, delicate and moist cupcake!
Let the cupcakes cool completely before frosting.
To make the buttercream frosting:
Use the paddle attachment on your standing mixer or a hand mixer to cream softened butter. I prefer to use salted butter, but you can use unsalted butter if you prefer! Once the butter has been mixed for several minutes and is lighter in color, add the powdered sugar and vanilla extract. Sifting the powdered sugar helps to remove clumps and create a smoother icing. Finally, add a tablespoon of milk one at a time until the frosting is your desired consistency.
Add to a piping bag with a fun piping tip and decorate your easy small batch cupcakes. For more frosting tips, see the buttercream tips section below.
How To Make Cupcakes Without Buttermilk
You may notice that traditional cupcake recipes call for buttermilk. Buttermilk is not an ingredient you'll find on my weekly grocery list, so I got creative with the ingredients I had on hand and created a perfect substitute for buttermilk.
All you need is whole milk and apple cider vinegar. If you don't have apple cider vinegar, white vinegar will work as well. Adding vinegar allows the milk to slightly curdle, which creates a similar taste and consistency to buttermilk.
Buttercream Frosting Tips
So, how do you make the perfect buttercream frosting for cakes and cupcakes? The key is to use softened butter that is room temperature. You should be able to press into a stick of butter and leave behind an indent from your finger.
I use butter everyday for baking and cooking so I always have softened butter at the ready. I don't buy tubs of spreadable butter, which you might think is weird, but there's something about having a stick of softened, good quality butter to spread on a slice of toast or in this case to make american buttercream icing!
Another thing I do differently from other bakers is using salted butter. Gasp! I know, you probably have been told to use unsalted butter. Personally, I just think frosting with salted butter tastes better and the sugar is well balanced. However, if you typically bake with unsalted butter or you like to control the amount of salt in your recipes, use the unsalted! This is just a personal preference of mine. Either way works!
The next trick to getting perfectly smooth chocolate buttercream frosting is beating the butter before adding any sugar. You want the softened butter to be pale in color and light and fluffy, this usually takes a few minutes.
Here's another expert baking tip for you while we're at it! Use a sifter to sift your powdered sugar into the bowl. Sifting removes any lumps from the confectioner's sugar which makes for an even smoother icing. You can apply this tip to the cocoa powder as well.
How To Decorate Cocoa Cupcakes
Decorating cupcakes is such a fun and therapeutic activity. You can choose from a variety of piping tips to get different designs. To get a similar look to the icing in my photos, I recommend using a Wilton 1M piping tip. This tip creates beautiful swirls of chocolate frosting that look effortless. Anyone can do it!
To make these cupcakes extra fancy, dust them with cocoa powder, dip them in chocolate sprinkles or top with shaved dark chocolate.
The Best Cupcake Flavor Variations
This recipe is a double chocolate version, but you can get creative and experiment with different flavor combinations if you'd like! If you really want to go the extra mile, you can even add delicious fillings like chocolate ganache, fresh strawberries, raspberry jam, caramel or more frosting. I personally love to pair a coffee flavored buttercream with dark chocolate cakes.
Ingredients
Easy Cupcakes:
Egg
Granulated White Sugar
Neutral Oil
Vanilla Extract
Milk of Choice
Apple Cider Vinegar
All-Purpose Flour
Cocoa Powder
Baking Powder
Baking Soda
Salt
Chocolate Icing:
Softened Butter
Powdered Sugar
Cocoa Powder
Vanilla Extract
Milk
Substitutions
Gluten-free?
If you're gluten-free, simply swap the all-purpose flour for a 1:1 gluten-free baking flour like this one.
Dairy-free or lactose-free?
To make this recipe dairy-free and lactose-free, swap the whole milk with your favorite non-dairy milk. I like to use coconut, almond or oat milk.
Oil or butter?
Both oil or melted butter are great options when making homemade cupcakes. I find when I use oil, the cupcakes are a bit lighter in texture. I prefer to use avocado oil, but any neutral oil will do.
What cocoa powder should you use?
Traditional or dutch processed cocoa powder both work in this cupcake recipe. I used high fat dutch processed cocoa since that's all I had on hand and my cupcakes turned out darker in color with a richer cocoa flavor than unsweetened cocoa.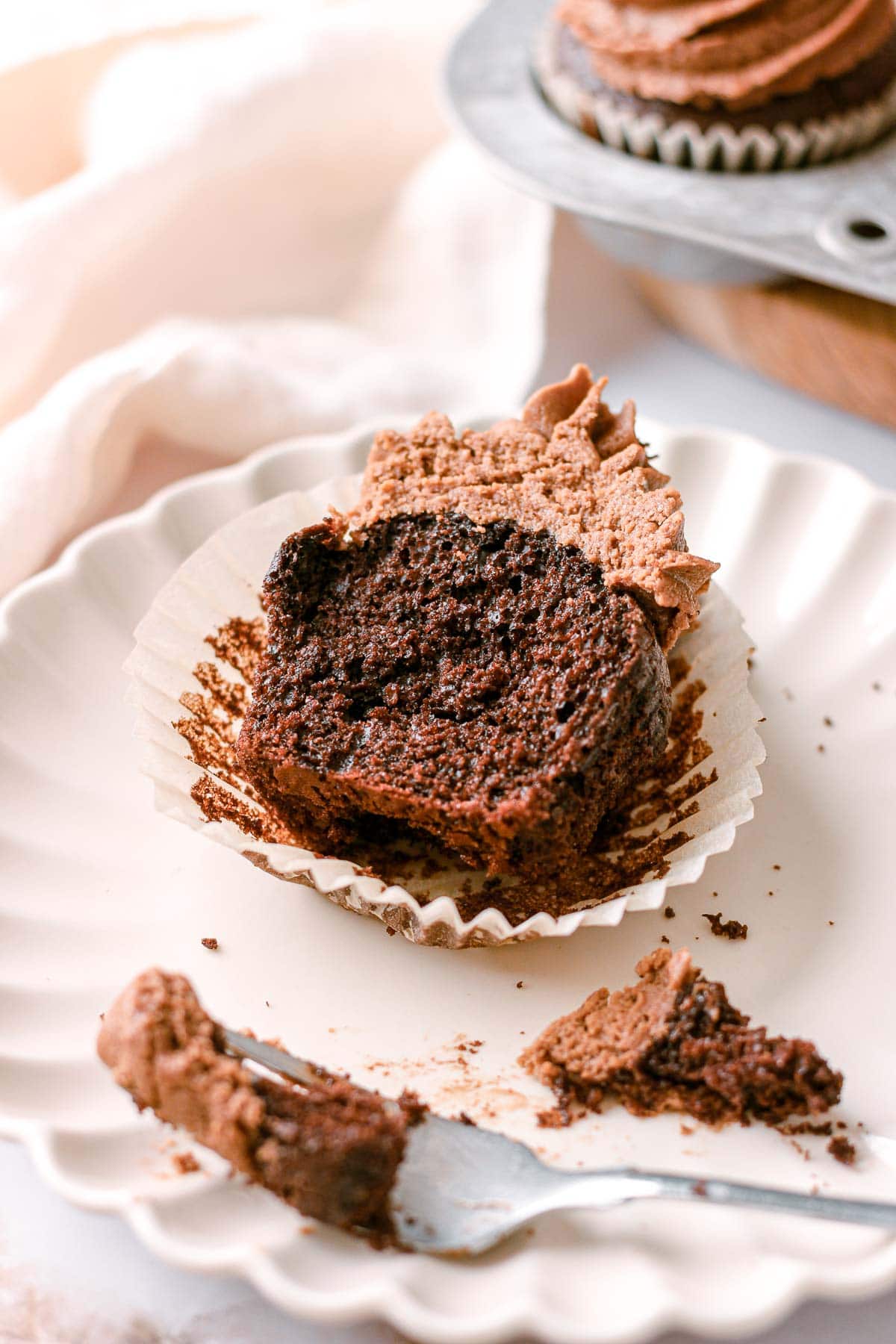 More Chocolate and Dessert Recipes:
If you make these chocolate cupcakes with chocolate frosting, be sure to tag #bakedabundance on Instagram. We'd also love if you would leave a comment below and rate the recipe. We appreciate you!
Frequently Asked Questions:
How long do cupcakes last?
These cupcakes last up to four days at room temperature or a week in the fridge!
How do you store cupcakes?
I leave my cupcakes in a cupcake tin covered with aluminum foil on my kitchen counter at room temperature for a few days. An airtight container will also work!
What makes homemade cupcakes moist?
Oil or melted butter and milk give cupcakes their moist, light and airy texture. Paying attention to the baking time is also important so you don't over-bake your cupcakes.
Can you freeze chocolate cupcakes?
Yes. Freeze frosted or unfrosted cupcakes for up to two months or so. Make sure your cupcakes are fully cooled before freezing. Wrap unfrosted cupcakes in plastic wrap and store frosted cupcakes in an airtight container.
Can you make cupcakes without buttermilk?
Yes. I like to use whole milk and some apple cider vinegar as a substitute for buttermilk. You can't tell the difference!
Print
Recipe
Chocolate Cupcakes With Chocolate Frosting
This chocolate cupcake recipe makes 6 perfect chocolate cupcakes. These decadent chocolate cupcakes are easy to make from scratch, bake in under 20 minutes and are topped with the most amazing chocolate buttercream frosting. 
Author: Marley
Prep Time:

10

Cook Time:

20

Total Time:

30 minutes

Yield:

6

1

x
Category:

Desserts

Method:

Bake

Cuisine:

American
Chocolate Cupcakes:
¼

cup

granulated sugar

1

egg

¼

cup

melted butter or oil

1 teaspoon

vanilla extract

¼

cup

milk of choice

½ teaspoon

apple cider vinegar, optional

¼

cup

all-purpose flour, spooned and leveled

1 tablespoon

cornstarch

½ teaspoon

baking powder

¼

cup

cocoa powder, sifted if lumpy

¼ teaspoon

salt
Chocolate Frosting:
1

cup

powdered sugar

¼

cup

cocoa powder

4 tablespoons

salted butter, softened

¼ teaspoon

vanilla extract

1 tablespoon

milk of choice
Instructions
In a mixing bowl, whisk together the eggs, sugar, oil and vanilla extract until light and frothy. 
Next, add your dry ingredients. Spoon and level your flour to get a more accurate measurement. Use a whisk to incorporate the flour, baking powder, cocoa powder, and salt. I like to switch to a rubber spatula for the last few mixes so I can scrape the sides of the bowl. The batter will be thin.
Using 6 liners, line your small cupcake tin. If using a cupcake tin that makes 12 servings, space out your cupcakes for a better bake. Spray the parchment liners with nonstick cooking spray to ensure your cupcakes won't stick.
Finally, use a large muffin scooper to distribute the batter evenly. Carefully pour the batter from the muffin scoop into the prepared parchment liner. The liners should be just about ¾ of the way full with batter.
Bake the cupcakes at 350F for about 18-22 minutes. Baking times vary slightly by different ovens. Insert a toothpick into the center of the cupcakes to check for doneness. The toothpick should come out clean or with a few crumbs. Allow the vanilla cupcakes to cool completely before frosting. 
To make the frosting, beat the softened butter until it has lightened in color and is light and fluffy. Add the powdered sugar a little at a time. Add remaining ingredients and beat until combined. 
Store cupcakes in the fridge for up to 5 days. Top with chocolate sprinkles if desired.
Keywords: chocolate cupcakes, small batch cupcakes, double chocolate cupcakes, chocolate buttercream frosting, chocolate desserts