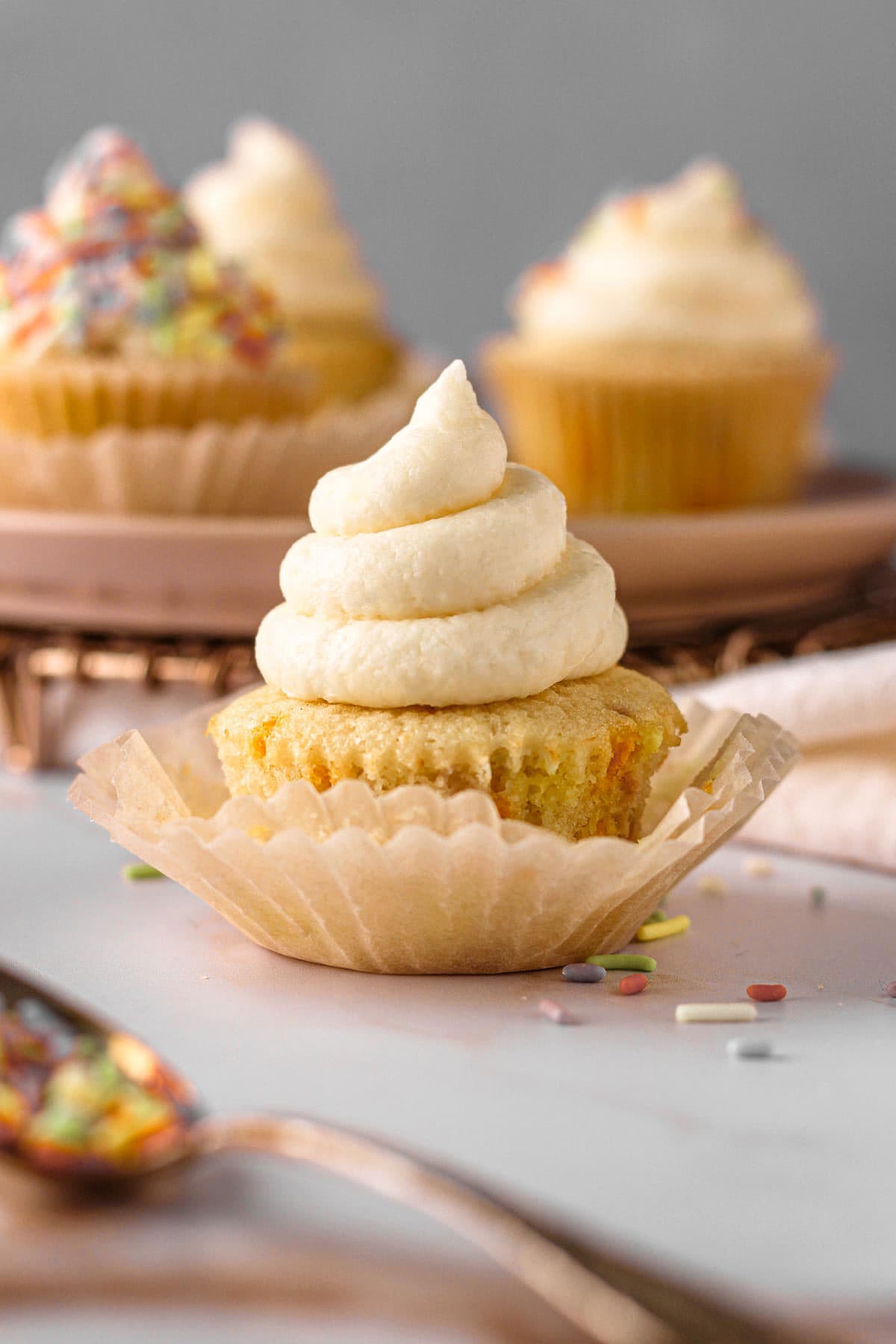 These vanilla cupcakes are easy to make, don't use buttermilk and have a swirl of buttercream frosting with sprinkles on top. Perfect for any birthday or event!
These small batch vanilla cupcakes are fluffy, moist and easy to make with no mixer required! Add some sprinkles to turn these into funfetti cupcakes for your next celebration or if you just want a reason to eat sprinkles! If you're more of a chocolate person like me, check out these small batch chocolate cupcakes.
Jump to section:
The Best Vanilla Cupcakes For Two
Small batch desserts are my go to when I'm craving a treat, but don't want to over do it on sweets. Half a dozen cupcakes are perfect to share as a couple or with your family or kids. I find that this recipe for six cupcakes makes just enough for me and my boyfriend to enjoy during the week!
If you want to make a full dozen cupcakes, click the "2x" button on the recipe card to easily double all of the measurements. Also, I share lots of helpful baking tips throughout this post if you're looking for more cupcake tips so come back to the post when you're ready to bake.
Made in One Bowl, From Scratch
If you're someone who hates cleaning up your kitchen after baking a recipe, you'll be happy to hear that you can make these cupcakes in just one bowl.
My favorite lazy baking hack is to use one bowl for all of my ingredients rather than mixing the dry ingredients in a separate bowl. It all comes down to what order you add your ingredients into the bowl. Remember to always start with the wet ingredients like eggs, oil and vanilla.
I like to use a french whisk to vigorously whisk my eggs, sugar, oil and vanilla by hand until the eggs appear light and frothy.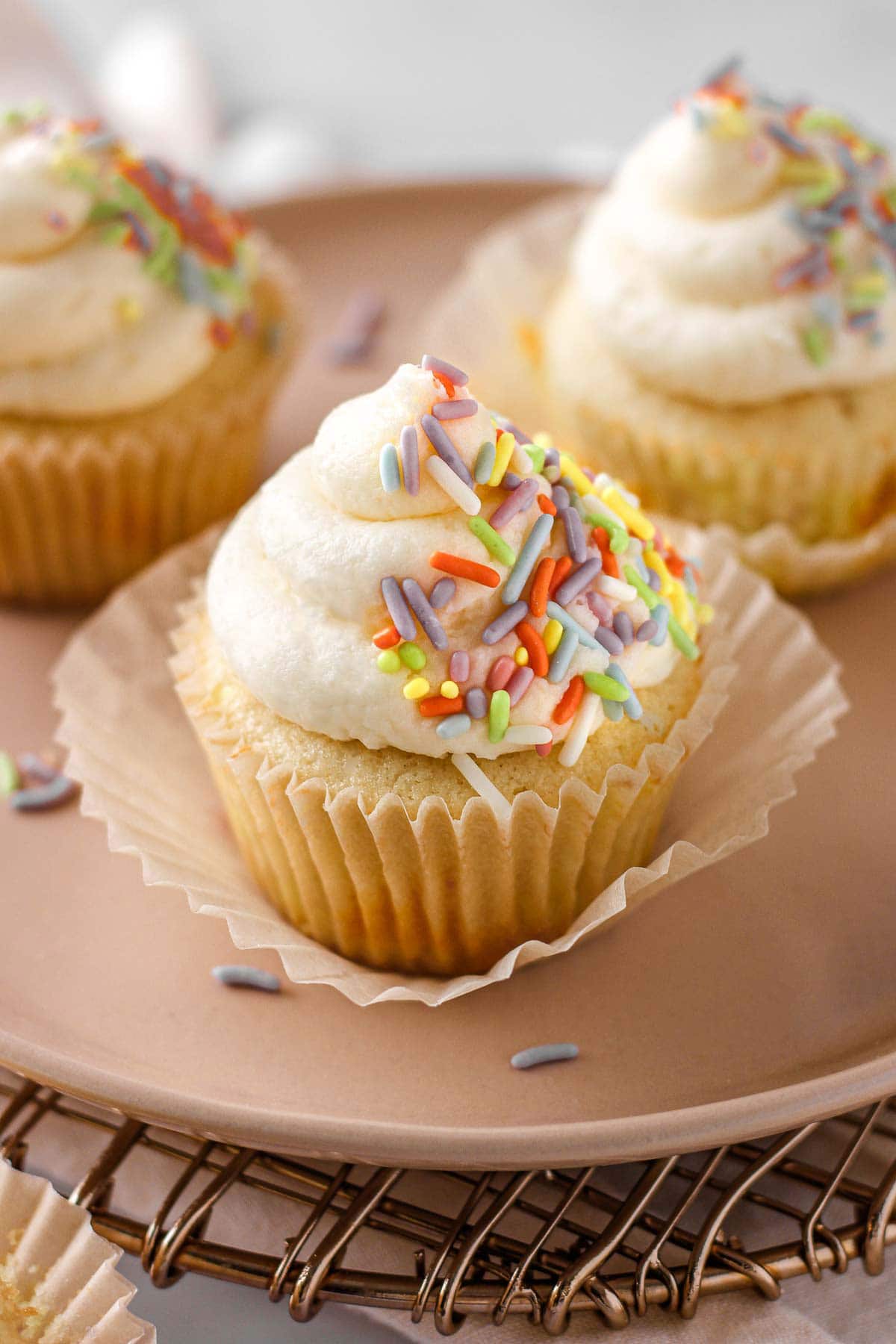 Step-by-Step Instructions for the Perfect Birthday Cupcake Recipe
Before you start making your homemade cupcakes, get out all of the ingredients and set up your baking station. Measuring out the ingredients in advance will help you closely follow the recipe and not accidentally add salt instead of sugar when you're not paying attention. Follow these easy steps to get started:
Mix wet ingredients

In a mixing bowl, whisk together the eggs, sugar, oil and vanilla extract until light and frothy.

Mix dry ingredients

Next, add your dry ingredients. Spoon and level your flour to get a more accurate measurement. Once you've added the flour, baking powder and salt, use the whisk to mix the ingredients together. I like to switch to a rubber spatula for the last few mixes so I can scrape the sides of the bowl. The batter will be thin.

Prepare capcake tin

Using 6 liners, line your small cupcake tin. If using a cupcake tin that makes 12 servings, space out your cupcakes for a better bake. Spray the parchment liners with nonstick cooking spray to ensure your cupcakes won't stick!

Pour batter

Finally, use a large muffin scooper to evenly distribute the cake batter. Carefully pour the batter from the muffin scoop into the prepared parchment liner. The liners should be just about ¾ of the way full with batter.

Bake cupcakes

Bake the cupcakes at 350F for about 18-22 minutes. Baking times vary slightly by different ovens. Insert a toothpick into the center of the cupcakes to check for doneness. The toothpick should come out clean or with few crumbs. Allow the vanilla cupcakes to cool completely before frosting.

Make buttercream frosting

To make the frosting, beat the softed butter until it has lightened in color and is light and fluffy. Add the powdered sugar a little at a time and beat until combined. Finally, mix in the vanilla extract and a little bit of milk to get the a smooth, silky buttercream frosting.
How To Make Cupcakes Without Buttermilk
You don't need buttermilk to make these light and fluffy cupcakes. If you do have buttermilk, great! But I don't usually have this on hand so I make these cupcakes with an easy buttermilk substitute.
All you need is milk and vinegar. I prefer to use whole milk and apple cider vinegar, but any kind of milk and vinegar will do. If you don't have vinegar, lemon juice is another option. I haven't tried using lemon juice yet, but the citric acid in the lemons should react with the baking powder to get a soft, airy crumb just like the vinegar mixture.
Flavored Buttercream Frosting Tips
Keep things classic with a vanilla, vanilla flavor combo. Or get creative with flavored buttercream! My personal favorites include coffee, strawberry and chocolate buttercream frosting. Lemon would also taste delicious!
To make the best vanilla icing, use a good quality vanilla extract and measure with your heart. Taste the frosting before you ice the cupcakes to make sure it's up to your vanilla standards and add extra vanilla extract if you want a stronger vanilla flavor.
The trick to getting a silky American buttercream that is light, easy to pipe and doesn't have lots of air bubbles is to beat it in a standing mixer for several minutes. I beat my softened, room temperature butter by itself until it is light in color and smooth. Then add in the powdered sugar gradually, beating slowly at first and then increasing the speed to bring the frosting back together again.
To avoid making a mess with clouds of powdered sugar, turn off your mixer before you add in the sugar. If you add the confectioner's sugar while your mixer is running, it will dust up and out of the bowl.
How To Decorate Funfetti Cupcakes
Using a piping bag with a piping tip takes the look of your homemade vanilla cupcakes from beginner to professional in minutes. Put down the spoon or spatula that you usually use to spread the frosting and grab a piping bag instead. There's even reusable piping bags that you can hand wash to decrease your plastic waste. I typically use a Wilton 1M, blank and blank piping tips.
Check out this video to see how I fill my piping bag with frosting.
Ingredients
Vanilla Cupcakes:
Egg
Granulated White Sugar
Neutral Oil or Melted Butter
Vanilla Extract
Milk of Choice
Apple Cider Vinegar
All-Purpose Flour
Baking Powder
Salt
Vanilla Icing:
Softened Butter
Powdered Sugar
Vanilla Extract
Milk
Substitutions
Do you need to make an adjustment to this recipe so it fits your dietary preferences? Here's how to make these cupcakes gluten-free and dairy-free:
Want to make gluten-free funfetti cupcakes?
To make this cupcake recipe gluten-free, use 1:1 gluten-free baking flour.
Dairy-free or lactose-free?
If you need these cupcakes to be dairy-free, substitute the milk with your favorite non-dairy milk. Oat, almond, soy and boxed coconut milk are all great choices here.
Oil or butter?
You can use either oil or melted butter to make cupcakes from scratch. When choosing an oil, choose a neutral oil like avocado oil.
More Easy Dessert Recipes:
If you make these vanilla cupcakes with vanilla frosting, be sure to tag #bakedabundance on Instagram. We'd also love if you would leave a comment below and rate the recipe. We appreciate you!
Frequently asked questions:
Is funfetti cake just vanilla with sprinkles?
Yes, it's as simple as that! Funfetti cake and cupcakes are made with colorful sprinkles mixed into the batter to create a fun cupcake fit for a celebration.
How long do cupcakes last?
These vanilla cupcakes will last for about four days on the counter at room temperature or up to a week when stored in the fridge.
How do you store cupcakes?
These cupcakes are best stored at room temperature. You can leave the cupcakes in the tin and cover them with foil or transfer them to a plate and cover with plastic wrap. Another option is to purchase a few cardboard pastry boxes for easy cupcake storage.
Why do my cupcakes shrink?
Cupcake batter that is overmixed has more air in it which can lead to your cupcakes shrinking as they cool. Another common reason for cupcakes that shrink is adding too much batter to the cupcake tin. That's why we don't completely fill each liner.
Can you freeze vanilla cupcakes?
Yes, you can freeze frosted or unfrosted cupcakes for up to two months. Store your cupcakes in an airtight container or plastic wrap to keep them fresh.
Print
Recipe
small batch vanilla cupcakes
These vanilla cupcakes are easy to make, don't use buttermilk and have a swirl of buttercream frosting with sprinkles on top. Perfect for any birthday or event!
Author: Marley
Prep Time:

10

Cook Time:

20

Total Time:

30

Yield:

6

1

x
Category:

Dessert

Method:

Bake

Cuisine:

American
Vanilla Cupcakes:
¼

cup

granulated sugar

1

egg

¼

cup

melted butter or oil

1 teaspoon

vanilla extract

¼

cup

milk of choice

1 teaspoon

apple cider vinegar

½

cup

all-purpose flour, spooned and leveled

1 tablespoon

cornstarch

½ teaspoon

baking powder

¼ teaspoon

salt

2 tablespoons

rainbow sprinkles, optional
Vanilla Buttercream Frosting:
1

cup

powdered sugar

4 tablespoons

salted butter, softened

¼ teaspoon

vanilla extract

1 tablespoon

milk of choice
Instructions
Pour milk and vinegar into a liquid measuring cup, stir and let sit for 5 minutes while you prepare your ingredients.
In a mixing bowl, whisk together sugar, egg and vanilla until light and frothy, about one minute.
Add the milk and vinegar to the wet ingredients and whisk to combine.
Next, add the dry ingredients and gently stir until just combined. Do not over-mix.
Line a 6-cup cupcake tin with paper liners. Use a muffin scoop or two spoons to portion out the batter into 6 equal cupcakes.
Bake on the center rack at 350F for about 20 minutes or until a toothpick inserted in the center comes out clean or with little crumbs. Let cool before frosting.
To make buttercream, add powdered sugar to a mixing bowl. Use a sifter or whisk to remove any clumps. Add the butter, vanilla and milk. Beat on medium-high and scrape the sides of the bowl a few times to ensure all of the frosting is mixed together. Add another splash of milk if necessary.
Once buttercream is smooth, transfer to a piping bag to decorate the cupcakes. Or use a spoon or spatula to spread on the icing. Top with more rainbow sprinkles (I poured some sprinkles on a plate and gently pressed the tops of my cupcakes into the sprinkles so they would stick to the frosting).
Notes
Mixing milk and apple cider vinegar is a substitute for buttermilk. If you have buttermilk, you may use that instead.
I did have some leftover frosting from this recipe. You can use the excess to add more decoration to the cupcakes or tightly wrap it in plastic wrap and store in the fridge to use for another dessert.
Keywords: small batch cupcakes, vanilla funfetti cupcakes, small batch vanilla cupcakes, vanilla buttercream frosting, dessert for two