These chocolate marshmallow cookies are soft, chewy and stuffed with gooey chocolate chips and toasted marshmallows. This recipe is easy to make and customize to your liking. These cookies are super decadent and will satisfy your sweet tooth.
You're going to love these bakery-style chocolate cookies with marshmallows!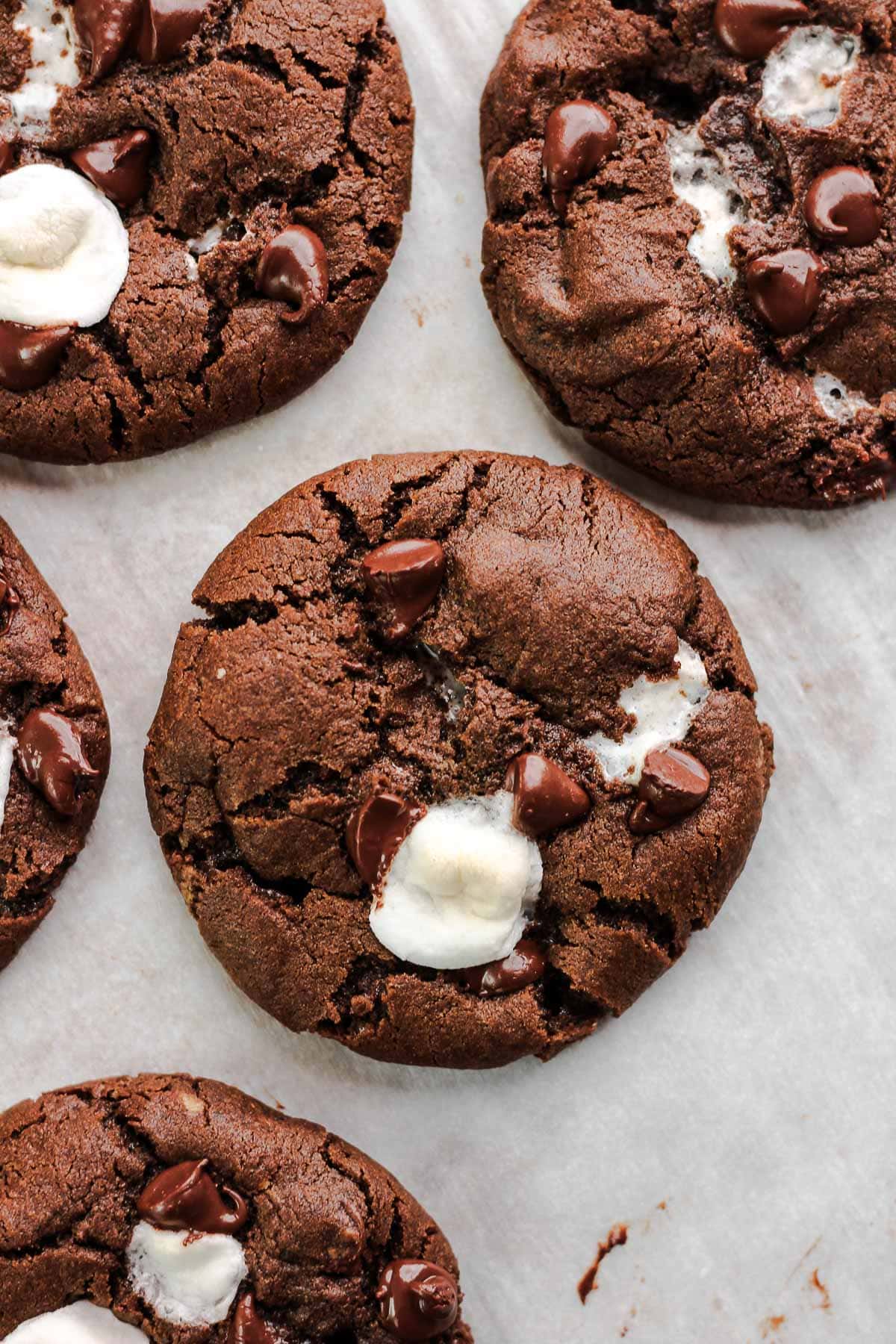 There are some things in life that simply belong together, today that "it just makes sense" combination is chocolate and marshmallows. These chocolate cookies are stuffed with sticky marshmallows that melt and toast as the cookies bake in the oven. Chocolate and marshmallow taste so good together!

This recipe is a spin-off of my double chocolate chip cookie recipe. Add some extra sweetness and fun to a classic chocolate lover's cookie with mini marshmallows. Or try these double chocolate mint chip cookies for a refreshing twist made with Andes mints!
This post will give you all the tips and tricks on how to make perfect chocolate marshmallow cookies.
Featured 5-star reviews:
Want to know what other people thought of this recipe? Check out these 5-star reviews left by our readers:
"These chocolate cookies were incredible!!! I used regular marshmallows that I ripped in half and the cookies came out perfectly. Thanks for the recipe." - Kent
"Chocolate and marshmallow is an amazing combo!! I plan to make these cookies again for Halloween and use black cocoa powder for a spooky touch." - Heather
"Wow! These were delightful cookies. My grandkids loved them. They were so excited about the marshmallows." - Carol
Looking for more chocolate cookie recipes? Try these eggless double chocolate cookies for an egg-free option. Or make these inside out cookies that are made with chocolate cookie dough and white chocolate chips.
In the mood for a chocolate-flavored dessert instead? You've got to try my double chocolate cupcakes. They are a small batch recipe that creates light and fluffy and of course extra chocolaty cupcakes!
Jump to:
Why You'll Love This Recipe
Pantry staples. This cookie recipe is easy to make and calls for ingredients you may already have at home.
Double chocolate! Can you ever have too much chocolate? I think not. This cookie dough is made with cocoa powder and chocolate chips for the most delicious chocolate flavor.
Gooey, toasted marshmallows! There's nothing better than a roasted marshmallow. Recreate this flavor in the oven with marshmallow-stuffed cookies.
Nostalgic flavors. Chocolate and marshmallow are two flavors many of us associate with our childhood. I love a baked good that gives me those warm and fuzzy feelings inside.
Soft and chewy! While I can appreciate a crispy chocolate chip cookie every now and then, I usually crave a soft and slightly under-baked cookie that is chewy. These cookies are super chewy!
Ingredients
Butter
Brown sugar
Egg
Vanilla
All-purpose flour
Natural cocoa powder
Baking soda
Baking powder
Salt
Chocolate Chips
Marshmallows (mini or regular)
See the recipe card below for a full list of ingredients and measurements.
Substitutions
Need to make a substitution or missing an ingredient? Here are some ways you can alter this recipe to fit your unique dietary needs.
Dairy-free? Use high-quality plant-based stick butter, DF chocolate chips, and vegan marshmallows to make these cookies dairy-free.
Gluten-free? I have not tested this recipe with other flour. I recommend trying a gluten-free 1:1 baking flour if you try to make this recipe gluten-free. Leave a comment and let me know how this goes!
Variations
Here are a few ideas for customizing this recipe and making different flavor variations:
Add crushed graham cracker for a s'mores twist! This would be the perfect variation to make in the summertime.
Add peanut butter. I imagine a spoonful of nut butter in the cookie dough would taste amazing! Peanut butter and marshmallow are a great flavor combination.
Use flavored or colored marshmallows. This would be a top pick if you are baking with kids.
Add a little peppermint extract to the cookie dough for a mint chocolate twist.
Top the baked cookies with a pinch of flaky sea salt to balance out the sweetness.
This recipe has not been tested with other substitutions or variations. If you replace or add any ingredients, please let us know how it turned out in the comments below!
How To Make Double Chocolate Chip Cookies with Marshmallows
Step 1: First, beat together butter and sugar until light and fluffy. Add egg and vanilla extract.
Step 2: Next, use a hand mixer to beat wet ingredients until fully combined.
Step 3: Mix together the dry ingredients in a separate bowl.
Step 4: Add dry ingredients to wet ingredients. Partially mix with beaters or use a rubber spatula or spoon to combine the dough.
Step 5: Once the dough is combined, add chocolate chips.
Step 6: Portion out cookie dough using a scoop or spoon. Flatten dough balls and stuff with 4-5 mini marshmallows or half of one regular-sized marshmallow.
Step 7: Use your fingers to pinch the cookie dough back in place over the marshmallow centers. Roll in your hands gently to form into a ball.
Step 8: Lastly, bake cookies according to the instructions on the recipe card. Let cool completely before storing.
Expert Tips & Tricks
Allow the cold ingredients to come to room temperature before making the cookie dough. This helps the ingredients to mix together properly.
Chill your cookie dough for 20 to 30 minutes before forming the dough balls for extra chewy cookies. Chilling the dough a bit usually creates a better texture and shape.
If you're worried about overbaking your cookies, take them out around 11 minutes instead of 12 to be on the safer side. The cocoa powder makes it difficult to tell when the cookies get lightly golden brown while baking. So, if you like a soft, slightly underdone cookie, I recommend taking them out a minute early. Or at the very least watch them closely while they bake so you can take the tray of cookies out ASAP once your timer goes off!
Top freshly baked cookies with a few extra mini marshmallows and return to the oven for 1 minute to get that gooey marshmallow look like you see in these photos.
Frequently Asked Questions
Have a question about this recipe? Here are some additional tips and commonly asked questions:
Can you put marshmallows in chocolate chip cookies?
I do not recommend mixing marshmallows directly into your cookie dough batter. As the cookies bake, the marshmallows may melt completely since they are dispersed throughout the entire dough. Instead, you should stuff the centers of the cookies with a handful of mini marshmallows or half of a regular marshmallow so it bakes better.
What kind of marshmallows can I use in cookies?
You can use mini or full-size marshmallows in cookies. Ripping a large marshmallow in half and adding it to the center of a drop cookie dough ball typically yields the best result.
Equipment
You'll need an aluminum baking sheet, parchment paper, a mixing bowl, measuring cups and spoons, a rubber spatula, and a cookie scoop or spoon to make this chewy cookie recipe.
Storage
Room Temperature
Store cooled cookies in an airtight container for up to a week. Chocolate cookies with marshmallows are best enjoyed in the first couple of days.
Freezing Instructions
Store cooled cookies in a freezer-safe container or storage bag and freeze for up to two months. Once you're ready to enjoy them, let them thaw at room temperature.
For unbaked cookie dough balls, add them to a freezer bag with enough space in between each ball to prevent sticking. Lay the bag flat in the freezer. When you're ready to bake, remove the dough balls to thaw at room temperature for an hour or overnight in the fridge. If you're short on time, decrease your oven temperature by 25°F and bake cookies for an additional 2 to 3 minutes.
Cookies made with frozen dough may slightly differ in appearance and texture from those made with fresh dough.
More Recipes You'll Love
Looking for something else to make? Give these Baked Abundance recipes a try:
Print
Recipe
Chocolate Marshmallow Cookies
These chocolate marshmallow cookies are soft and chewy and have gooey marshmallow centers. These cookies are stuffed with marshmallows that will melt and toast while they bake in the oven. This recipe will satisfy your sweet (and chocolate!) tooth.
Author: Marley Braunlich
Prep Time:

20

Cook Time:

12

Total Time:

35

Yield:

1

2

1

x
Category:

Cookies

Method:

Bake

Cuisine:

American
½

cup

salted butter, softened

¾

cup

brown sugar, lightly packed

1

large egg, room temperature

1 teaspoon

vanilla extract

1 ½

cups

all-purpose flour, spooned and leveled

¼

cup

cocoa powder* (see notes)

¾ teaspoon

baking soda

¼ teaspoon

baking powder

½ teaspoon

salt

½

cup

chocolate chips, plus more for topping

48

-

60

mini marshmallows or 6 full-size marshmallows* (see notes)
Instructions
Preheat your oven to 350°F (176°C) and line a baking sheet with parchment paper.
In a large bowl, cream the softened butter and brown sugar together until light and fluffy, about 2 minutes. The butter and brown sugar will have lightened in color.
Add in the egg and vanilla extract and mix until fully incorporated.
In a separate bowl, whisk together the flour, cocoa powder, baking soda, baking powder and salt. Slowly add the dry ingredients to the wet ingredients, mixing until just combined.
Fold chocolate chips into the cookie dough. 
Use a cookie scoop or spoon to portion out the dough. Flatten each dough ball and place either 4-5 mini marshmallows OR half of one full-size marshmallow in the center. Pinch the dough around the marshmallow until it is fully covered. Roll the stuffed cookie dough ball in between your palms to help shape it into a round ball. 
Dip the cookie dough balls into a small bowl filled with chocolate chips and then shape them again using your palms if needed. 
Place 6 cookie dough balls onto the prepared baking sheet, leaving about 2 inches between each cookie.
Bake for 10-12 minutes or until the edges are lightly golden. I'd recommend baking for 10 minutes if you want a slightly underbaked cookie or if your oven runs hot. I found 12 minutes was the perfect time for a slightly crispy and chewy cookie with golden edges.
Optional: For an extra toasted marshmallow look, add a few mini marshmallows on top of freshly baked cookies and return to the oven for a minute to toast. 
Let the cookies cool on the baking sheet for 5 minutes before transferring them to a wire rack or tray to cool completely. Store cooled cookies in an airtight container for up to a week. Chocolate marshmallow cookies are best enjoyed in the first couple of days.
Notes
See the blog post for more baking tips and details on how to customize this recipe.
Cocoa powder: I recommend using natural cocoa powder, black cocoa powder or even cacao powder in this recipe. 
Marshmallows: Use 4-5 mini marshmallows or half of one regular-sized marshmallow in the center of each cookie dough ball. I find half of one large marshmallow bakes a little bit better than the mini marshmallows, but both work!
Keywords: chocolate marshmallow cookies, chocolate cookies with marshmallows, marshmallow-stuffed cookies, double chocolate chip marshmallow cookies
LET US KNOW WHAT YOU THINK!
Did you try these marshmallow chocolate cookies? Leave a five ⭐️ review below and tag @bakedabundance on Instagram & Facebook!