These blueberry banana muffins are super moist, filled with juicy blueberries and have loads of real banana flavor. You can use fresh or frozen blueberries in this recipe. These muffins can easily be made in one bowl and make a delicious, healthier breakfast. This recipe calls for 5 ripe bananas to get that better-than-boxed taste. You're going to love these fluffy banana muffins!
These banana blueberry muffins are bursting with delicious banana flavor and have a wonderfully light and moist texture. This recipe makes approximately 15 bakery-style muffins, so you'll have plenty to share with your loved ones if you choose to.
I bake banana bread and banana muffins very often! You'll also want to check out my healthier banana bread recipe and these maple bacon banana muffins that have a maple glaze! If you're in the mood for chocolate, you have to try these rich chocolate espresso banana muffins.
Jump to:
Why You'll Love This Recipe
Use up your old, brown bananas. Transform your over-ripe bananas into something delicious with this easy banana muffin recipe! This recipe calls for 5 ripe bananas or about 2 to 2 ¼ cups of mashed ripe bananas, which will give your muffins a super moist texture and authentic banana flavor.
Enjoy them for breakfast. Muffins are a healthy, convenient breakfast option to enjoy at home or on the go.
The texture and flavor of these muffins are incredible! The mashed bananas create lovely flecks of ripe banana throughout the baked muffins. The blueberries add a refreshing tart fruity flavor that contrasts nicely with the cinnamon and banana.
You can use fresh or frozen blueberries. Sometimes you need some flexibility when making a recipe depending on what ingredients you have on hand. Luckily, these muffins can be made with fresh or frozen blueberries.
This recipe is easy to make. You can easily make these muffins in one bowl to save some time as you bake and clean up.
This recipe is tried and true and the results are amazing every time! You can count on having the best banana muffins each time you make this recipe.
Ingredients
This recipe calls for pantry staple ingredients you should already have on hand! Plus, this muffin recipe will use up all of your over-ripe bananas. It's a win-win.
Bananas
Eggs
Butter
Brown sugar
All-purpose flour
Baking soda
Cinnamon
Salt
Blueberries
Turbinado or coarse sugar
See the recipe card below for a full list of ingredients and measurements.
Substitutions
Need to make a substitution or missing an ingredient? Here are some ways you can alter this recipe to fit your unique dietary needs.
Gluten-free? I have not tested this recipe with other flour. I recommend trying a gluten-free 1:1 baking flour if you try to make this recipe gluten-free. Leave a comment and let me know how this goes!
Don't have blueberries? You can use another berry such as fresh raspberries or fresh strawberries. Another mix-in option is chocolate chips!
Want to use less sugar? I would recommend using ½ cup of lightly packed brown sugar and ¼ cup of honey or pure maple syrup. You can also try using coconut sugar instead of brown sugar if you prefer to bake with coconut sugar.
Variations
Here are a few ideas for customizing this recipe and making different flavor variations:
Use fresh raspberries or strawberries instead of blueberries.
Add chocolate! Some chocolate chips in these banana blueberry muffins would taste wonderful.
Mix in some chopped nuts. If you like the combination for fruits and nuts, some chopped walnuts or pecans would go great in this recipe.
Add a streusel topping. Take the topping mixture that you would normally use for streusel muffins and use that on top of these banana muffins for some added crunch and sweetness. Depending on the consistency of your streusel topping, the rise of your muffins may be affected.
This recipe has not been tested with other substitutions or variations. If you replace or add any ingredients, please let us know how they turned out in the comments below!
How To Make Banana Muffins with Blueberries
Step 1: Beat melted butter and brown sugar together until combined.
Step 2: Peel bananas.
Step 3: Use a mixer to beat the bananas until mostly smooth, leaving some chunks of banana.
Step 4: Add mashed bananas to the butter and sugar mixture and beat to combine. Add eggs and beat to combine.
Step 5: Line your muffin tin with parchment paper liners and grease with non-stick cooking spray. Fill each muffin liner with batter.
Step 6: Fold in the blueberries until fully incorporated.
Step 7: Line your muffin tin with parchment paper liners and grease with non-stick cooking spray. Fill each muffin liner most of the way with batter. Top each muffin with extra blueberries and a sprinkle of coarse sugar.
Step 8: Bake muffins according to the directions. Let cool and store covered at room temperature for 3 days.
Expert Baking Tips
Use a large muffin scoop to portion out the muffin batter. Fill each muffin cup almost to the top edge of the liner. If you only fill your muffin cups halfway, your baked muffins will not have that tall, bakery-style look.
Use some non-stick cooking spray to lightly coat your parchment paper liners to prevent sticking.
Toss your blueberries in 1 to 2 tablespoons of all-purpose flour to prevent them from sinking to the bottom of your muffins.
Bake your muffins in every other muffin cup to achieve a tall, bakery-style look. This allows more air to circulate around the sides of each muffin. (To do this, you would bake 6 muffins in a 12-cup muffin tin at a time so they are spaced out.)
Add a few extra blueberries on top for a nice finishing touch.
Let your muffins cool in the muffin tin before removing them.
Store baked muffins in an airtight container or cover the cooled muffin tin with aluminum foil.
Frequently Asked Questions
Have a question about this recipe? Here are some additional tips and commonly asked questions:
How long to cook blueberry banana muffins?
Baking time may vary based on the recipe and your oven. However, this blueberry banana muffin recipe calls for a baking time of 20 to 25 minutes.
Can you add blueberries to banana muffin mix?
Yes, you can easily add fresh or frozen blueberries to homemade or store-bought banana muffin batter. As long as you don't add too many blueberries, your muffins will bake perfectly!
How to make healthy blueberry banana muffins?
To make healthy blueberry banana muffins, you can reduce the sugar and add some rolled oats on top instead of coarse sugar. I recommend using ½ cup brown sugar and ¼ cup honey or pure maple syrup in this recipe. Instead of topping your muffins with turbinado sugar, add a sprinkle of rolled oats instead for a healthy finishing touch.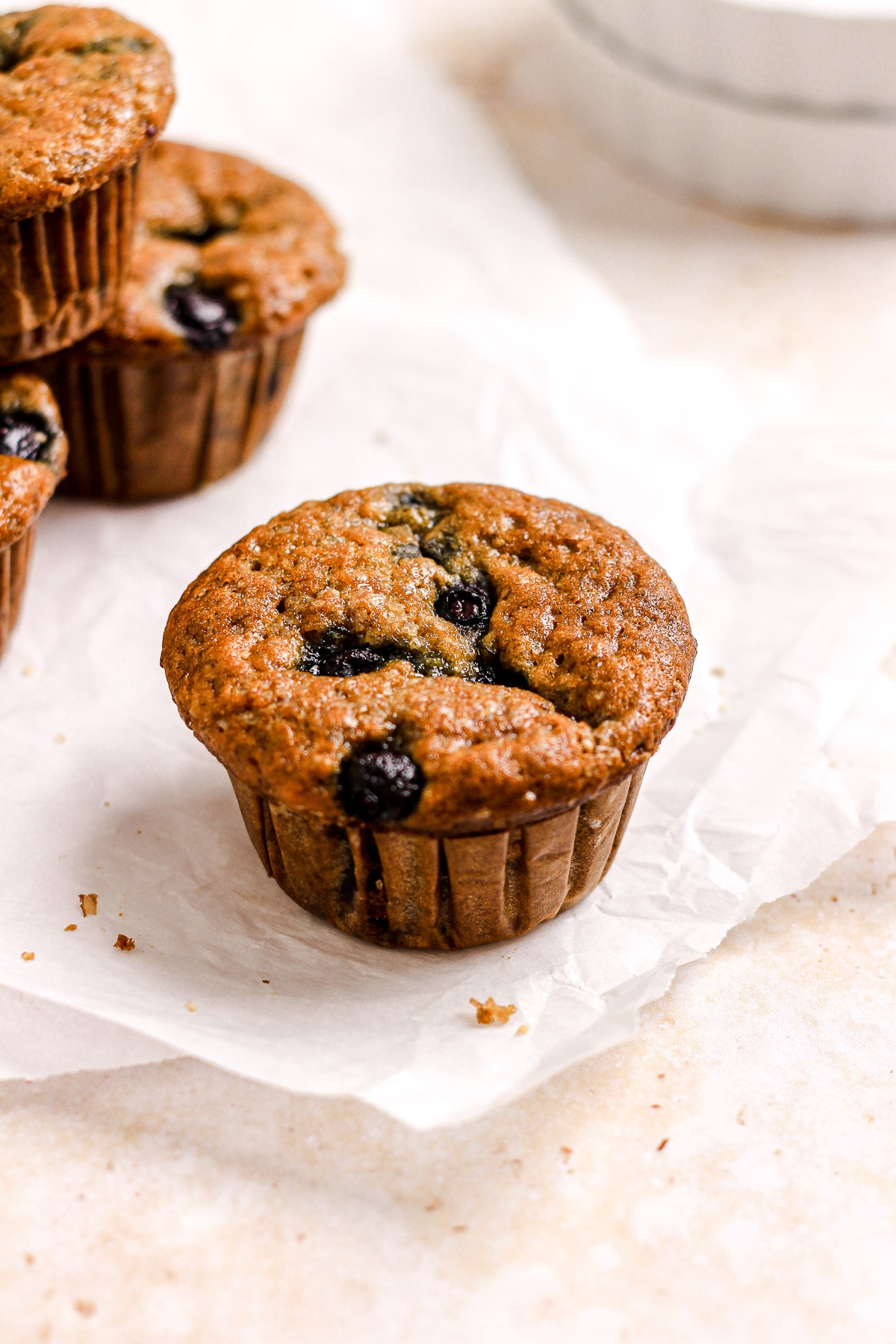 Equipment
You'll need standard baking equipment to make these muffins. You will use a mixing bowl, a stand mixer or electric hand mixer, measuring cups and spoons, a large muffin scoop, a muffin tin, parchment paper liners, and a rubber spatula to make this recipe.
Storage
Room Temperature
Store freshly baked muffins at room temperature for up to 3 to 4 days. To extend their shelf life, store covered muffins in the fridge for up to a week. Muffins are best enjoyed warm, so if stored in the fridge, microwave them for about 10 seconds before enjoying.
Freezing Instructions
Wrap cooled muffins tightly in plastic and place them in a freezer bag or airtight container. Freeze for up to 2 months. When ready to enjoy, remove the muffins from the freezer and let them thaw at room temperature.
Keep in mind that muffins that were frozen may have a different texture and appearance than freshly baked muffins.
More Recipes You'll Love
Looking for something else to make? Give these Baked Abundance recipes a try:
Print
Recipe
Blueberry Banana Muffins
Author: Marley Braunlich
Prep Time:

10

Cook Time:

20-25

Total Time:

35

Yield:

1

5

1

x
Category:

Muffins, Breakfast

Method:

Bake

Cuisine:

American
5

medium ripe bananas (about

2

to

2 ¼

cups mashed banana)

2

large eggs

½

cup

salted butter, melted

¾

cup

brown sugar, lightly packed

2

cups

all-purpose flour, spooned and leveled

1 ½ teaspoons

baking soda

1 teaspoon

cinnamon

½ teaspoon

salt

1

cup

blueberries, fresh or frozen
Blueberries for topping
Instructions
Preheat your oven to 350°F (176°C). Line a muffin tin with muffin liners and grease the cups with non-stick cooking spray.
In a large glass mixing bowl, add a stick of butter and heat in the microwave for about 30 seconds. Once butter is melted, add brown sugar and whisk or beat to combine.
Peel the ripe bananas and add them to the bowl with the butter and sugar. Beat until mostly smooth, leaving some chunks of banana is okay.
Add in the eggs and beat together until fully combined.
In another mixing bowl, whisk together the flour, baking soda, cinnamon, and salt.
Add the dry ingredients to the wet ingredients, mixing until just combined. Be careful not to overmix as this can result in tough muffins.
Toss blueberries with 1 to 2 tablespoons of all-purpose flour to prevent sinking. Fold in the blueberries using a rubber spatula until they are evenly distributed throughout the batter.
Line a 12-cup muffin tin with 6 muffin liners. Baking a muffin in every other space creates a taller, domed muffin. Fill each muffin liner almost to the top with batter. Sprinkle some extra blueberries and turbinado sugar on top.
Bake the muffins in the preheated oven for about 20-25 minutes or until a toothpick inserted in the center comes out clean or with little crumbs. The muffins should look golden brown when baked.
Take the muffins from the oven and let them cool in the muffin tin completely before removing them from the tin. Store covered at room temperature for a few days or in the fridge for up to a week.
Notes
See the blog post for more baking tips and details on how to customize this recipe.
If you find that your oven runs colder than most, I recommend baking at 375°F instead of 350°F for about 20 minutes. If your oven runs hotter than most, I recommend baking at 350°F and checking your muffins for doneness a few minutes early.
Keywords: blueberry banana muffins, banana muffins with blueberries, banana blueberry muffins, banana bread muffins, banana muffin recipe