These Lucky Charms Rice Krispie Treats only call for 3 ingredients, are super easy and inexpensive to make and taste just like the nostalgic treats you had as a kid. This recipe comes together in under 15 minutes and is loaded with gooey, sweet marshmallows. Instead of using puffed rice cereal, this recipe is made with Lucky Charms cereal. Finally, no baking is required to make these tasty treats!
This recipe is a great option year-round but is especially popular during the warmer months when you don't want to turn on your oven. Another great occasion to make these fun treats is St. Patrick's Day! Lucky Charms cereal makes these bars colorful and festive for this holiday.
See my "Variations" section of the blog post for more ideas on how to customize this recipe or naturally dye them green for St. Patty's Day.
Looking for more fun and festive recipes? Try out these coconut macaroons for a refreshing, sweet cookie. You can add a little green food coloring to the coconut mixture for a St. Patrick's Day theme. For a natural green color, try these matcha cookies. These cookies are made with green tea matcha powder and white chocolate chips and have a wonderful, unique flavor.
Jump to:
Why You'll Love This Recipe
This fun treat is super easy to make and only requires 3 ingredients!
There is no baking required to make this recipe. Rice Krispie treats are great to make during the warmer months when you don't want to turn on your oven or if you just want to make a quick and easy dessert.
This recipe is a fun twist on traditional Rice Krispie treats. By using Lucky Charms cereal instead of regular puffed rice cereal, you can make this nostalgic treat a little more festive and colorful. This is also a fun option for St. Patrick's Day!
This recipe is fun to make with your kids! If you have any little ones in your life, they will go crazy for these chewy, sticky and sweet treats.
This dessert is inexpensive to make. I got all of these ingredients for under $10 if you are counting a whole pack of butter. (We don't even use a whole stick of butter in this recipe!) Marshmallows typically cost $1.00 and you can find cereal for a just few dollars or sometimes grab some on sale for just $3.00 or so. This is perfect if you are sticking to a grocery budget or need to make many treats for a party, picnic or school event.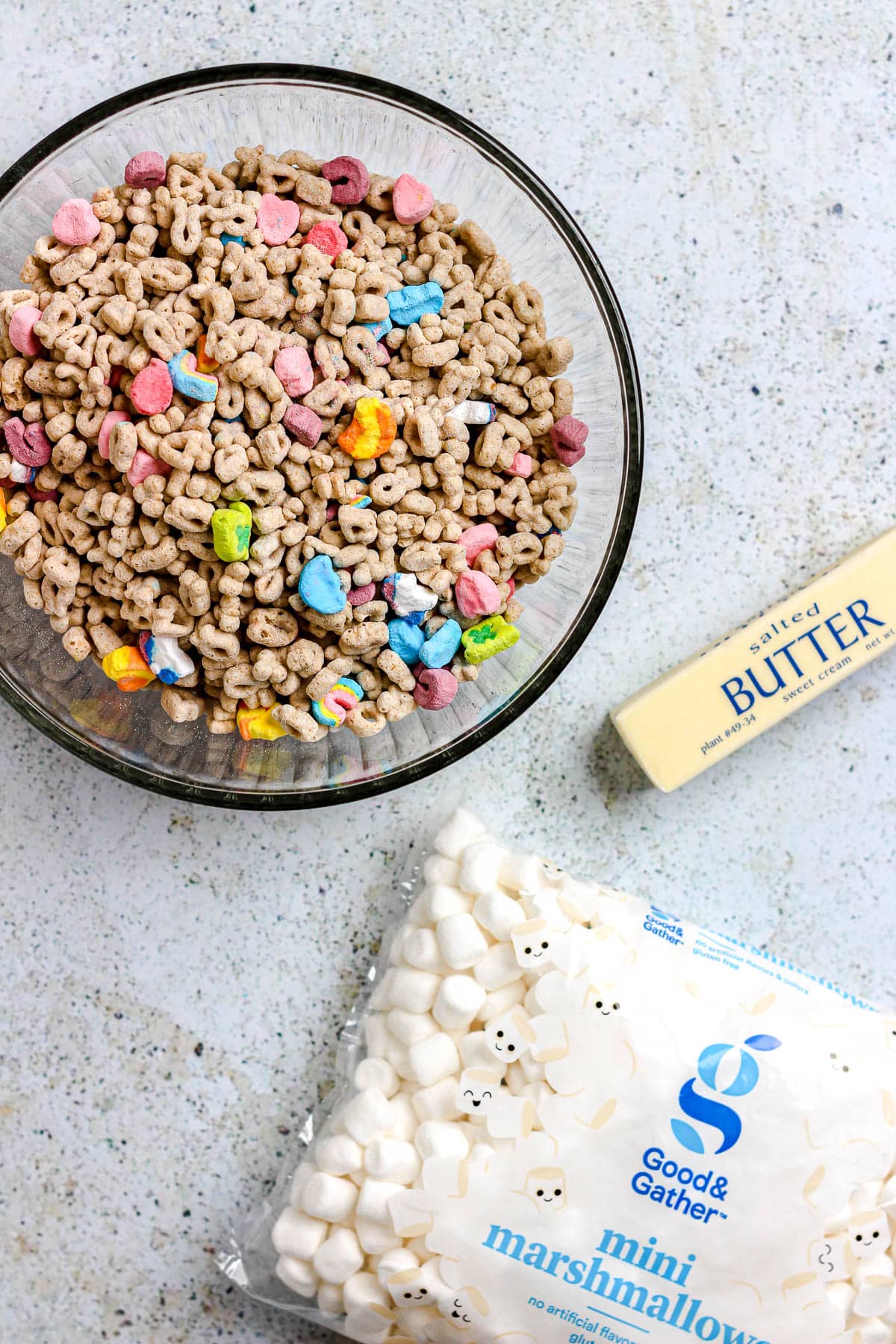 Ingredients
This recipe calls for only 3 ingredients! Grab some Lucky Charms or your favorite box of cereal and let's get started.
Lucky Charms cereal
Marshmallows
Salted butter
See the recipe card below for a full list of ingredients and measurements.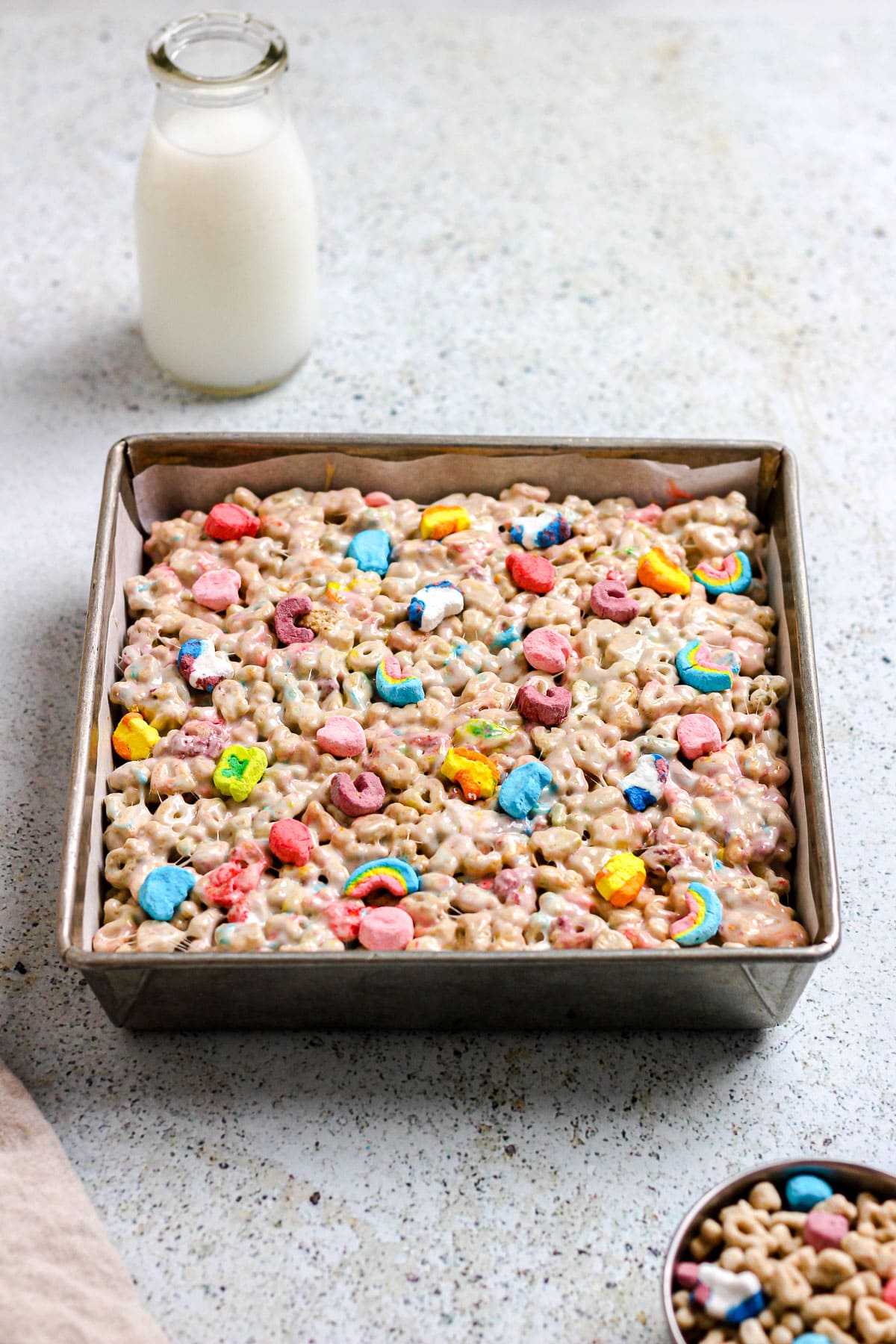 Substitutions
Need to make a substitution or missing an ingredient? Here are some ways you can alter this recipe to fit your unique dietary needs.
Don't have Lucky Charms? Try using another cereal like puffed rice or cornflakes.
You can use mini or regular-size marshmallows.
If you only have unsalted butter, just add a pinch of salt to the marshmallow mixture.
Gluten or dairy-free? No problem! The Original Lucky Charms cereal is both gluten and dairy-free.
Variations
Here are a few ideas for customizing this recipe and making different flavor variations:
Mix extra mini marshmallows before transferring them to a baking dish.
Substitute Lucky Charms for another cereal. Try using chocolate cereal to make a chocolate version.
Want to make a green-colored treat for St. Patrick's Day? You can add a few drops of natural green food coloring to the melted marshmallow mixture for a bright green rice crispy treat.
Another option to create a green color is to add a little matcha powder. This will add a wonderful flavor and natural color to this homemade snack.
Enhance the appearance of these kid-approved treats with some colorful sprinkles!
Add some chocolate. I think white chocolate chips would pair nicely with these bars if you'd like to add some chocolate. You could even add some green food coloring to melted white chocolate to add a festive green drizzle on top.
This recipe has not been tested with other substitutions or variations. If you replace or add any ingredients, please let us know how they turned out in the comments below!
How To Make Lucky Charms Rice Crispy Treats
Step 1: Grab your ingredients. You'll only need ⅓ cup of butter which is equal to 6 tablespoons. Melt the butter in a large pot. Once melted, add the marshmallows and stir until melted.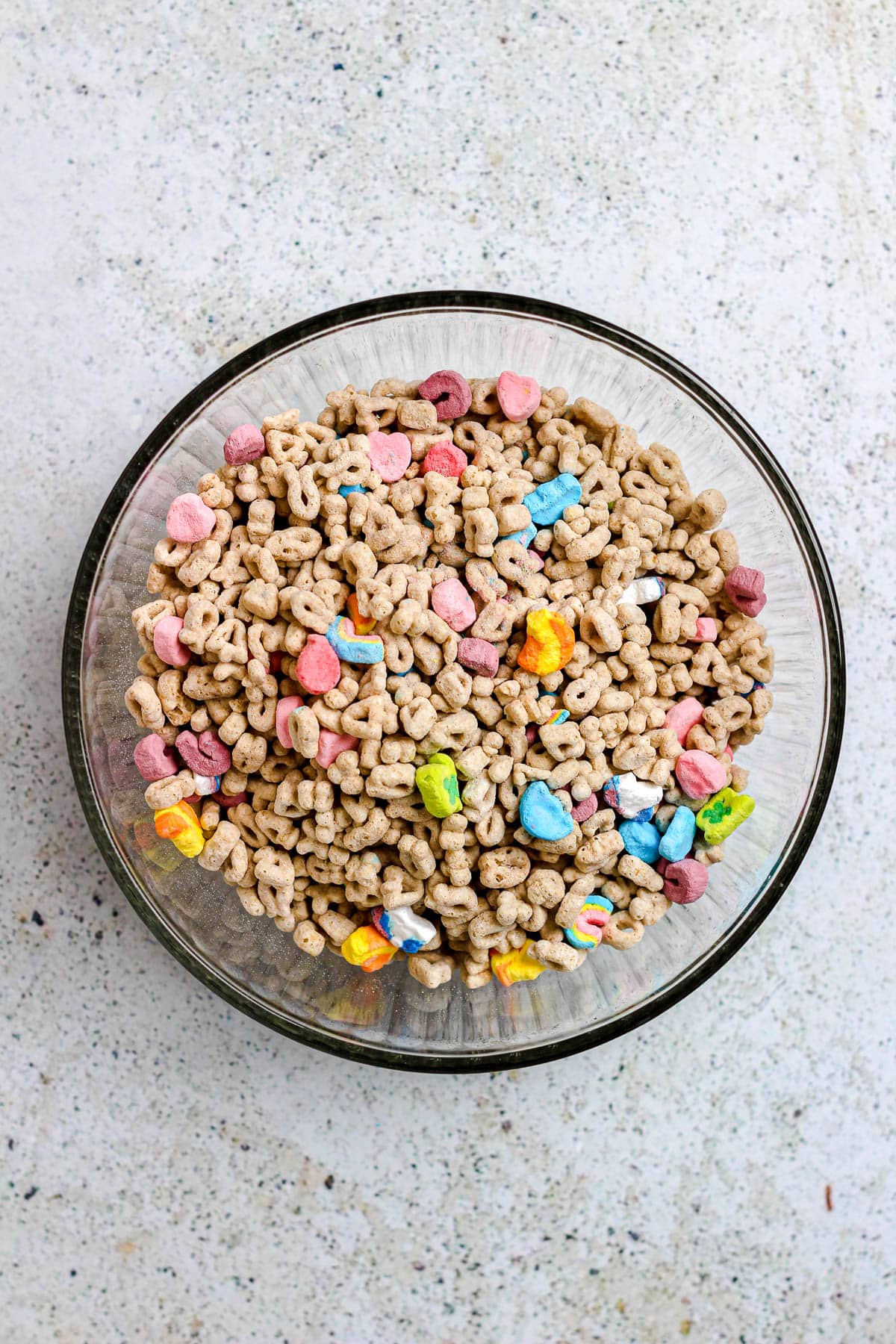 Step 2: Measure the cereal into a bowl so you can easily add it to the melted marshmallow and butter mixture all at once. Remove the marshmallow mixture from heat once melted. Add in cereal and stir until combined.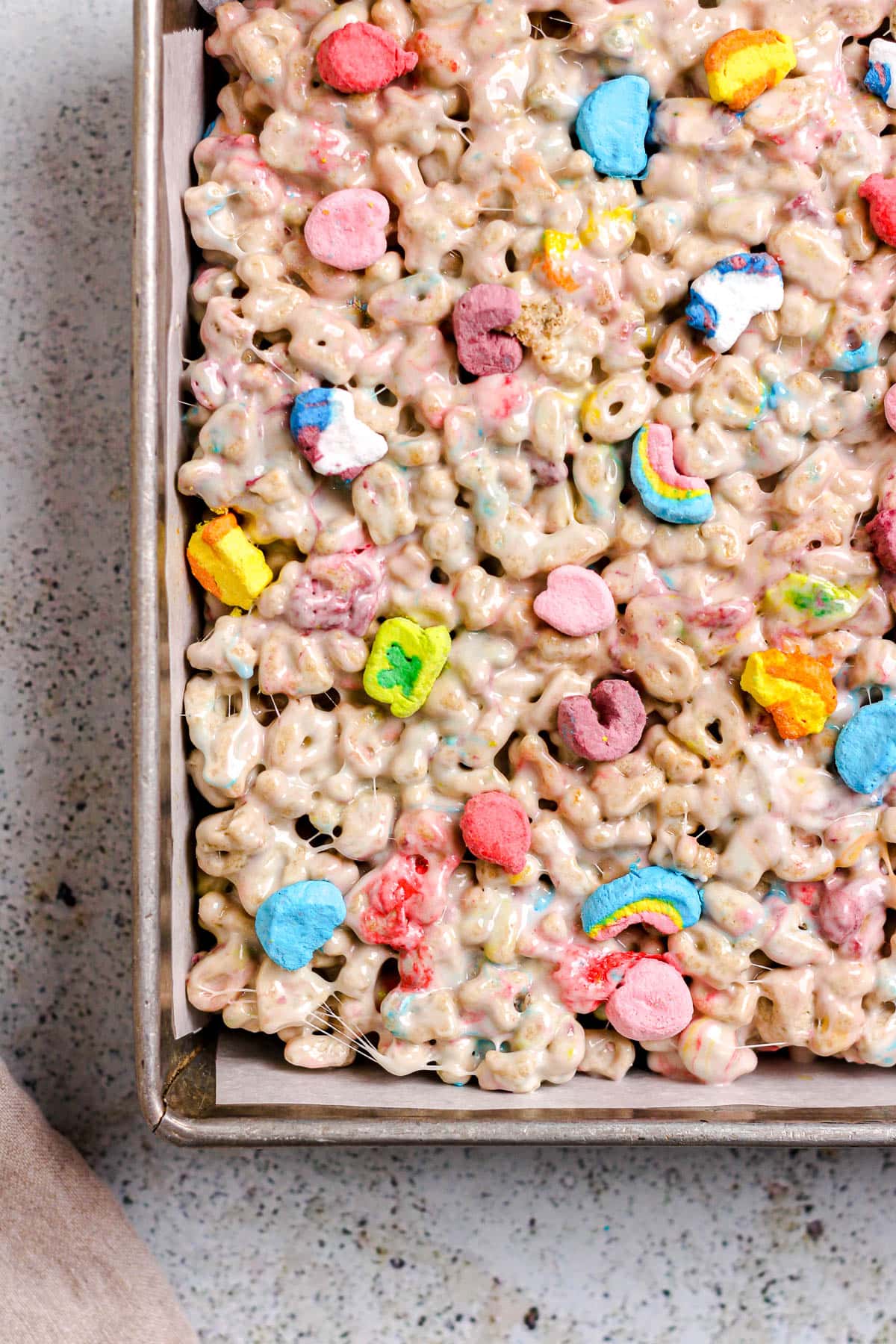 Step 3: Line a square baking dish with parchment paper. Transfer the rice crispy mixture to the dish. Use the bottom of a measuring cup to flatten out the treats.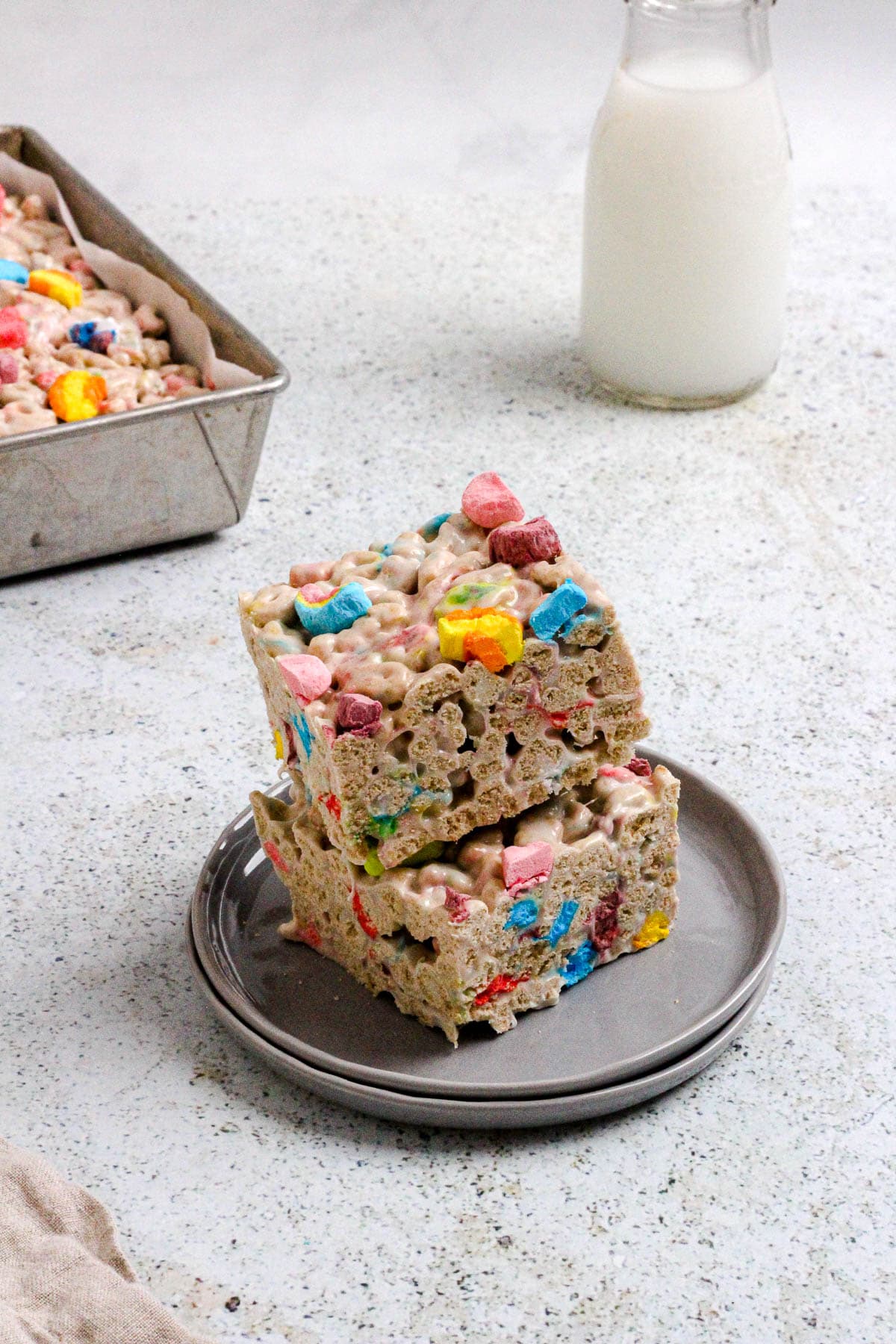 Step 4: Let the rice crispy treats cool before removing them from the pan. Slice on a cutting board with a large knife to get clean cuts. Slice into 9-12 servings.
Expert Baking Tips
Remove your pot from the heat once your marshmallows are melted. Continue to stir and let the marshmallow mixture cool down a little before adding in the cereal. This will help your Lucky Charms marshmallows keep their shape.
Line your 8x8 or 9x9 inch baking dish with parchment paper before adding the cereal mixture. I like to add one piece of parchment paper going in each direction of the pan with some overhang so the bars are easy to remove once set.
Grease the bottom of a metal measuring cup and use this to spread out and flatten the tops of the rice crispy treats.
Individually place a few extra marshmallows on top of the finished bars before chilling. This gives you a more professional look.
Chill the bars for 20 to 30 minutes before slicing them with a large sharp knife. I use parchment paper to easily remove the bars from the dish and place them on a cutting board before slicing.
Slice into 9 or 12 bars to get uniform pieces.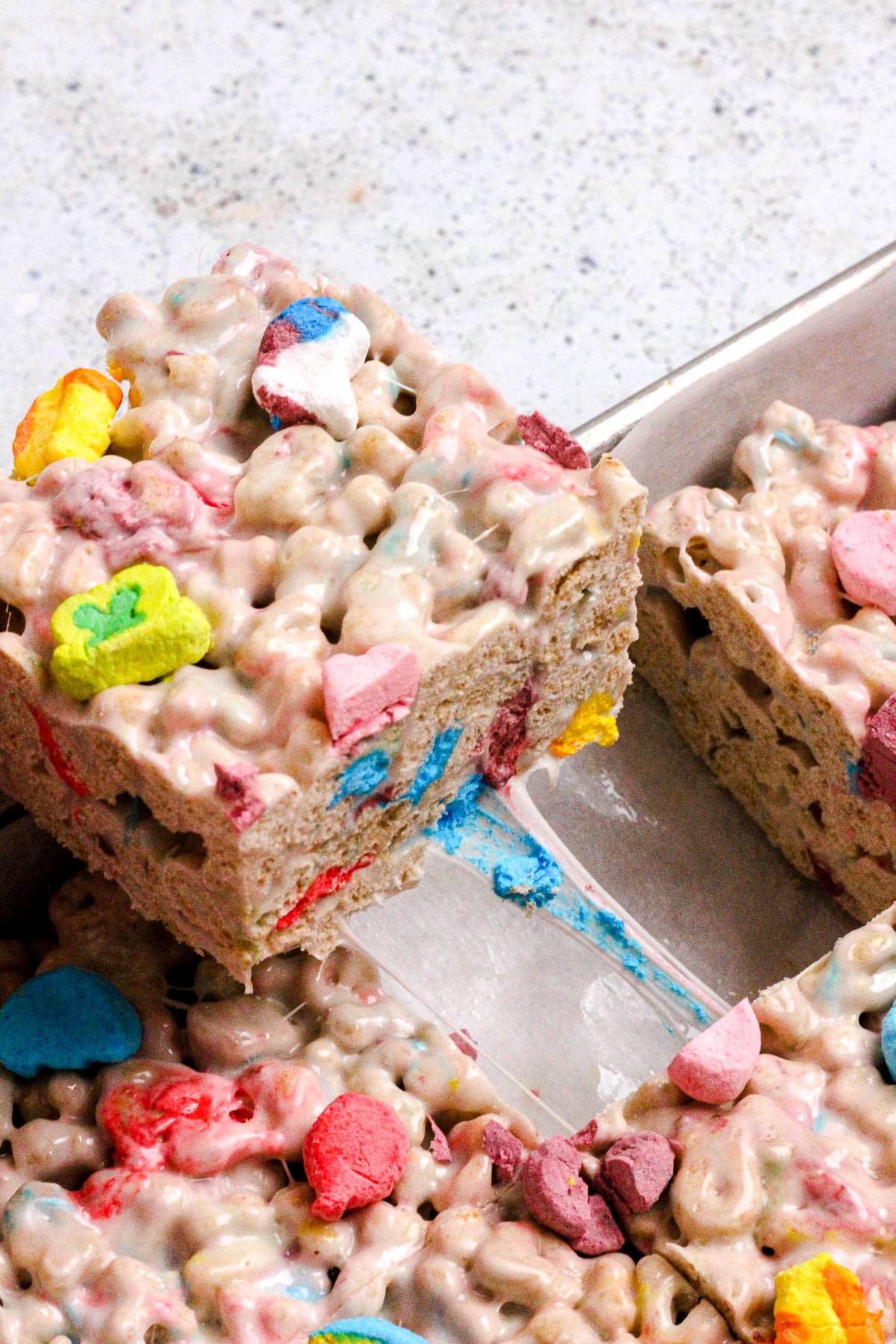 Frequently Asked Questions
Have a question about this recipe? Here are some additional tips and commonly asked questions:
Are Lucky Charms treat bars gluten-free?
Yes, this recipe is gluten-free. The Original Lucky Charms are gluten-free. Marshmallows and butter are also gluten-free so this recipe can be enjoyed by people following a gluten-free diet. If eating store-bought treats, always check the label before enjoying them.
Are Lucky Charms treats dairy free?
Yes, this recipe is dairy-free. The Original Lucky Charms are dairy-free, however, they are not vegan. Most marshmallows are also dairy free. If eating store-bought treats, always check the label before enjoying them.
Is this recipe vegan?
This recipe is not vegan because most marshmallows include gelatin. To make this recipe vegan, use vegan cereal, vegan marshmallows and vegan stick butter. I have not tried to make these rice krispie treats with vegan products so I'm not sure how they would turn out.
How long do these bars last?
Room-temperature rice crispy treats are best enjoyed within 3 days. If stored covered in the fridge, these bars can last up to a week. They may get stale or harden if not covered well or after a week passes.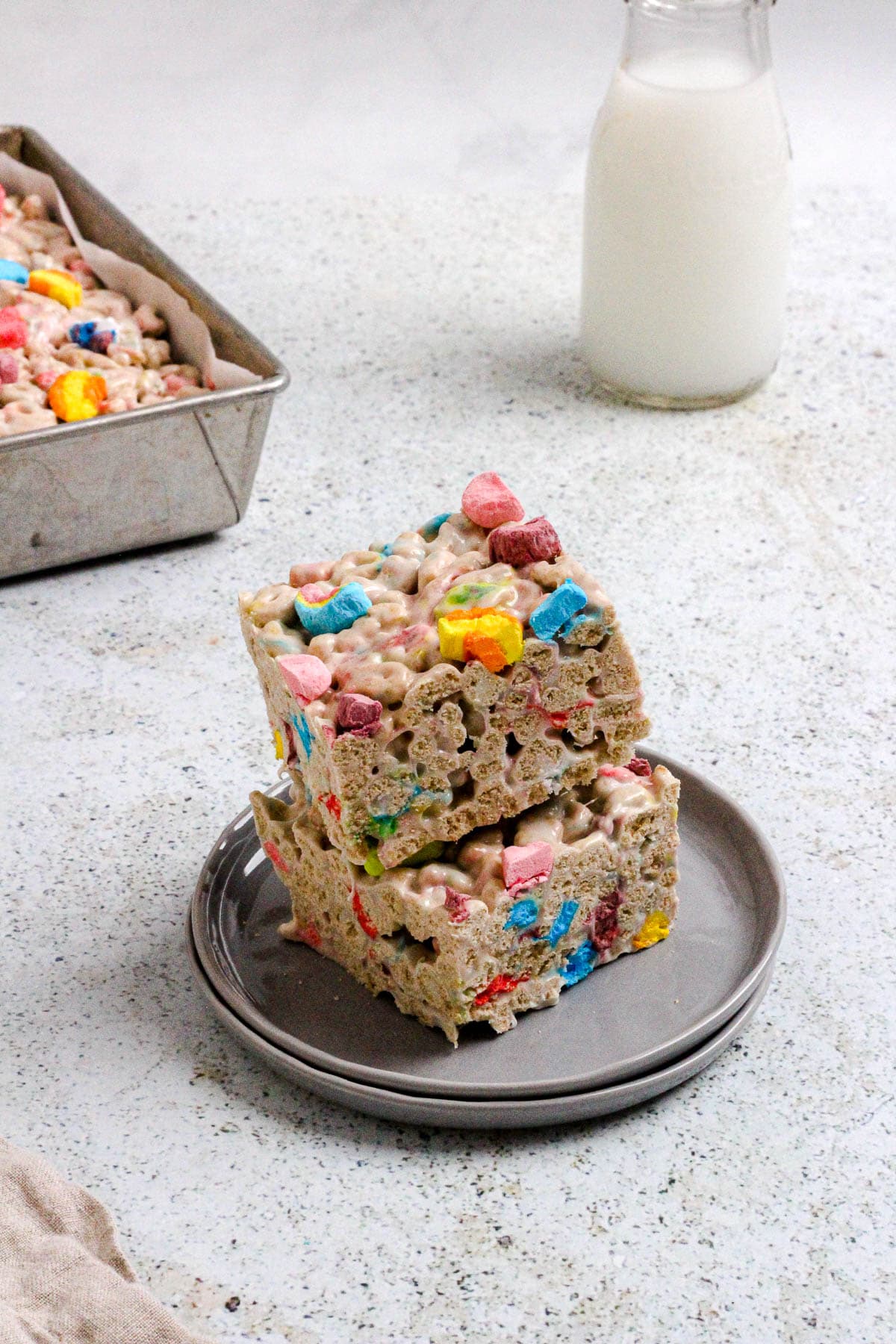 Equipment
To make this recipe, you will need a large pot or dutch oven, a mixing bowl, measuring cups, a rubber spatula, a cutting board and a sharp knife. I like to use a large pot so I don't have to worry about the marshmallow cereal mixture spilling over the edges when stirring.
Storage
Room Temperature
Store your homemade rice crispy treats at room temperature for 3 days. You can simply cover your baking dish tightly with foil or transfer the cooled bars to an airtight container.
Freezing Instructions
You can freeze homemade rice krispie treats by wrapping them tightly in plastic wrap once cut and cooled. Store the wrapped treats in a freezer bag or airtight container. Freeze for up to 2 months. To enjoy treats that were frozen, remove them from the freezer and let them thaw at room temperature.
More Recipes You'll Love
Looking for something else to make? Give these Baked Abundance recipes a try:
Print
Recipe
Lucky Charms Rice Krispie Treats
These Lucky Charms Rice Krispie Treats are made with 3 ingredients, loaded with gooey marshmallows and come together in under 15 minutes! These bars are just like the nostalgic treats you had as a kid, but with a twist. Plus, they're super easy and inexpensive to make!
Author: Marley Braunlich
Prep Time:

15

Total Time:

30

Yield:

1

2

1

x
Category:

Desserts

Method:

Stovetop

Cuisine:

American
6 tablespoons

(

⅓ cup

) salted butter

16

ounces

marshmallows (mini or regular-sized)

6

cups

Lucky Charms cereal
Instructions
Line an 8x8 or a 9x9 inch baking dish with parchment paper. Leaving some overhang so you can easily grab the parchment to remove these bars from the dish for serving. 
In a large pot, melt the butter over low to medium heat.
Once the butter is melted, add the marshmallows to the pot and stir until they are completely melted and smooth. This will take several minutes. I like to use a sturdy rubber spatula or a metal spoon to stir.
Remove the pot from the heat and stir in the Lucky Charms cereal or another cereal of your choice. Mix well until all of the cereal is coated with the marshmallow mixture.
Pour the mixture into the prepared pan and press down evenly with a spatula or the bottom of a measuring cup. If you are struggling to spread out the sticky mixture, try greasing your spatula or measuring cup so it easily glides over the cereal. 
Let the Lucky Charms Rice Krispie Treats cool and set for 20 to 30 minutes in the fridge before cutting them into 9 squares or 12 bars.
Notes
See the recipe post for more baking tips, substitutions, flavor variations and frequently asked questions. 
Keywords: lucky charms rice krispie treats, rice krispie treats, rice crispy treats, lucky charms cereal, st. patrick's day, no bake desserts