These homemade snickerdoodle cookies are perfectly soft, chewy and sweet. They are rolled in cinnamon sugar and they bake in under 10 minutes! Snickerdoodles are such a classic cookie and definitely a favorite for their sweet vanilla flavor and soft, chewy texture.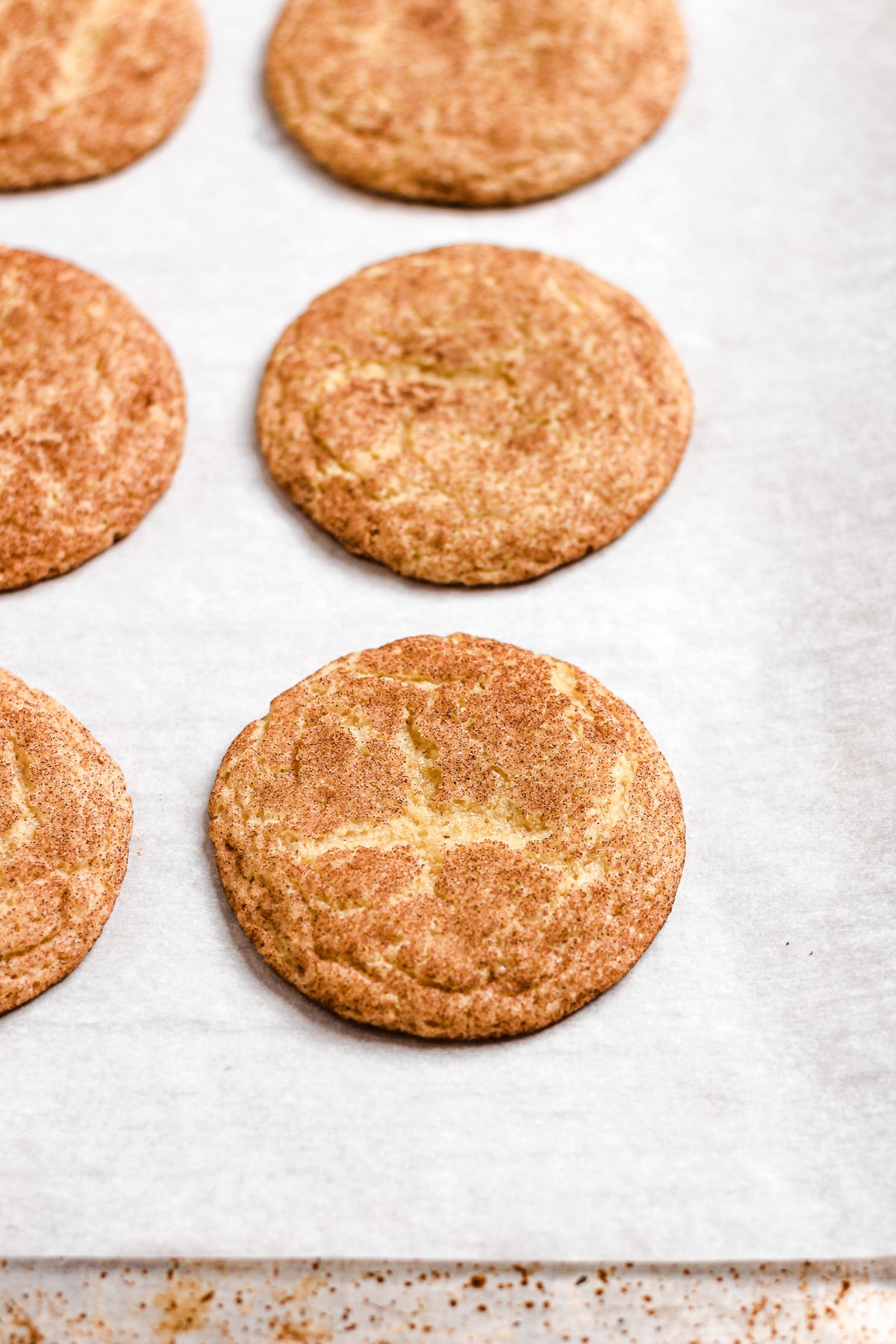 Cinnamon sugar snickerdoodles are a warm and cozy cookie to enjoy when you're craving a simple sweet treat. This is a great recipe to make any time of year but is a popular option during the holidays and Christmas cookie season. Homemade snickerdoodles are a classic dessert that everyone will love!
This recipe calls for pantry staple ingredients and is fairly easy to make. The hardest part is rolling all of the cookie dough balls in cinnamon sugar, but this step is well worth it! This recipe would be fun to make with kids or your family.
Looking for more crowd-pleasing dessert recipes? Try our eggless chocolate chip cookies! This is one of the most popular recipes on Baked Abundance. Craving chocolate? Our double chocolate bundt cake is super moist and rich.
Jump to:
Why You'll Love This Recipe
Thanks to the cinnamon and cream of tartar, these snickerdoodle cookies have a wonderfully sweet and slightly tangy taste.
These cookies are easy to make and don't require any special equipment or difficult techniques. You can make this recipe with kids or even if you have little baking experience.
These cookies have a soft and chewy texture and are rolled in cinnamon sugar! This recipe is a crowd-pleaser and a nostalgic cookie for many of us.
These cookies pair well with a cup of tea, coffee or milk. This classic cookie recipe always hits the spot.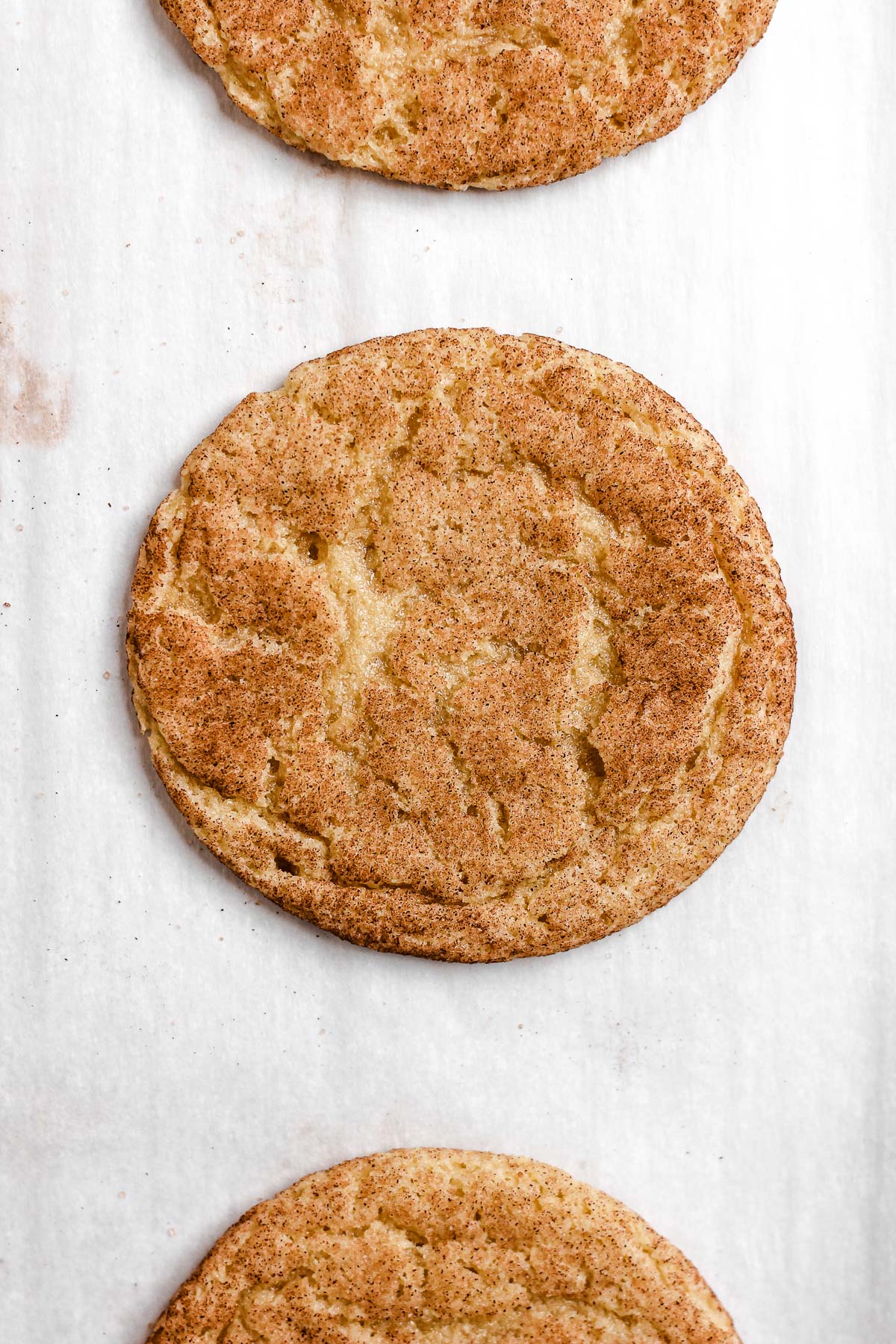 Ingredients
Granulated Sugar: I like to use plain old granulated white sugar, but cane sugar will also work.
Butter: Softened salted butter adds a buttery flavor to these cookies and helps them spread out a bit while baking to create perfectly crinkled tops.
Vanilla Extract: This ingredient always elevates the flavor in any baked good.
Eggs: This recipe calls for eggs to bind the ingredients together and help make a perfect, chewy cookie.
All-Purpose Flour: We're using all-purpose flour to keep these cookies light and airy.
Cream of Tartar: Fresh cream of tartar always works best so if yours has been in the back of your cupboard for months, grab a new one before making these cookies! Cream of tartar makes these snickerdoodles super soft and tender.
Baking Soda: This ingredient acts as the rising agent and helps the cookies rise while baking.
Salt: Add some salt for a little sweet and salty action.
Cinnamon: This amazing spice makes snickerdoodles, snickerdoodles. We love any cookie that's rolled in cinnamon sugar!
See the recipe card below for a full list of ingredients and measurements.
Substitutions
Need to make a substitution or missing an ingredient? Here are some ways you can alter this recipe to fit your unique dietary needs.
Gluten-free? Try substituting the all-purpose flour for a gluten-free 1:1 baking flour. I have not tested this yet.
Dairy-free? I think a good quality vegan stick butter would work well in these cookies. I have not tested this yet.
Variations
Here are a few ideas for customizing this recipe and making different flavor variations:
Chocolate chip: Add your favorite chocolate chips to make this recipe a hybrid between chocolate chip cookies and snickerdoodles.
Cinnamon chip: If you can find cinnamon chips at your nearest grocery or baking store, they would be delicious in these cinnamon cookies!
Double cinnamon: Double up on the cinnamon and add 1 teaspoon of ground cinnamon into the cookie dough.
White chocolate: If you are a white chocolate fan, try adding some white chocolate chips into the dough.
Brown butter: Brown butter makes everything better. Brown the butter and let is cool before creaming together with the sugar. I have not tested this yet, but I feel that the use of brown butter would create an incredible flavor.
This recipe has not been tested with other substitutions or variations. If you replace or add any ingredients, please let us know how it turned out in the comments below!
How To Make Snickerdoodle Cookies
Step 1: Cream together butter, sugar and vanilla extract until fluffy and light in color.
Step 2: Beat in one egg at a time until fully combined.
Step 3: Add dry ingredients and beat until just combined.
Step 4: Your cookie dough should look like this and feel slightly sticky to the touch.
Step 5: Combine cinnamon and sugar together in a small bowl.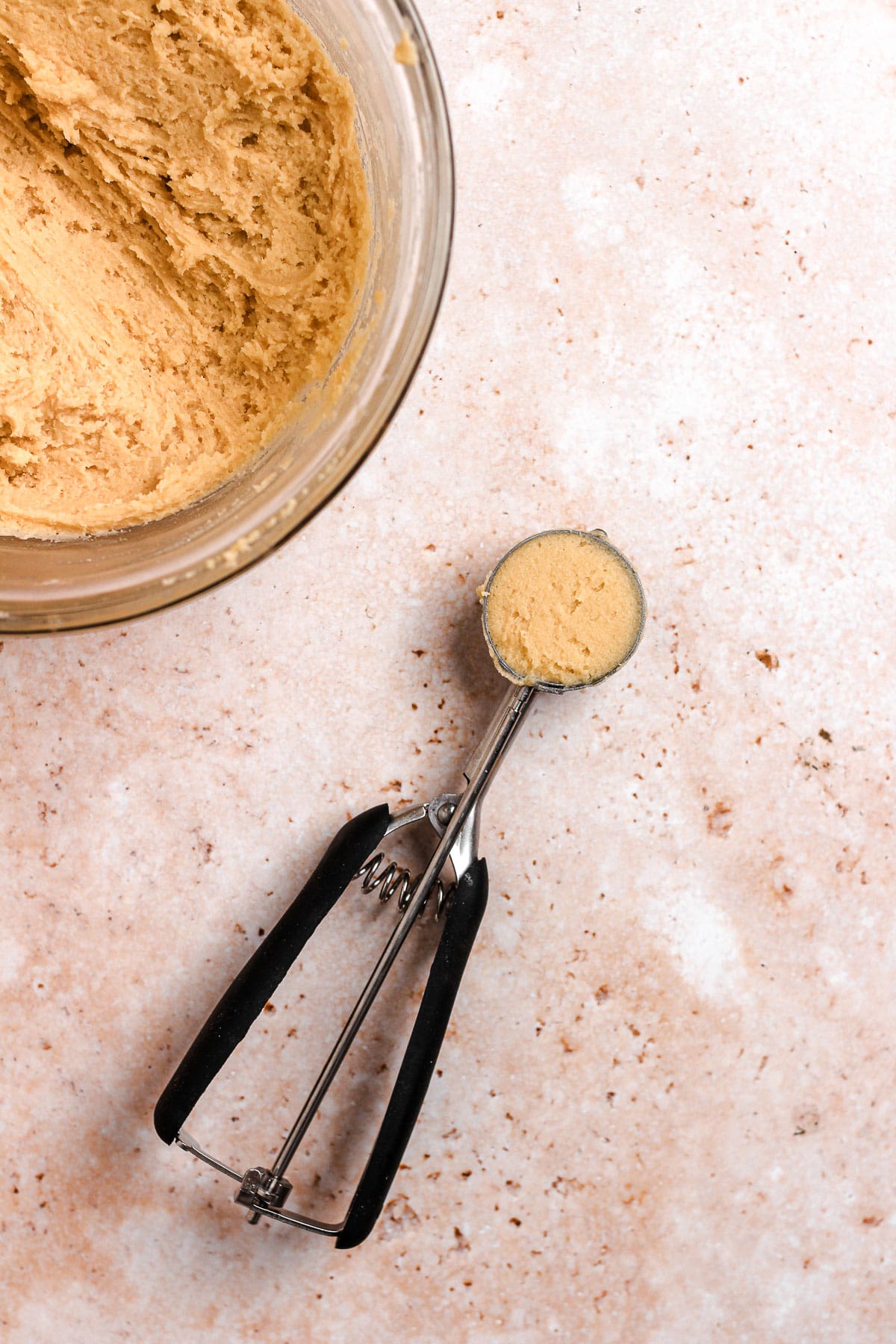 Step 6: Scoop a cookie dough and roll in between your hands to form a round ball.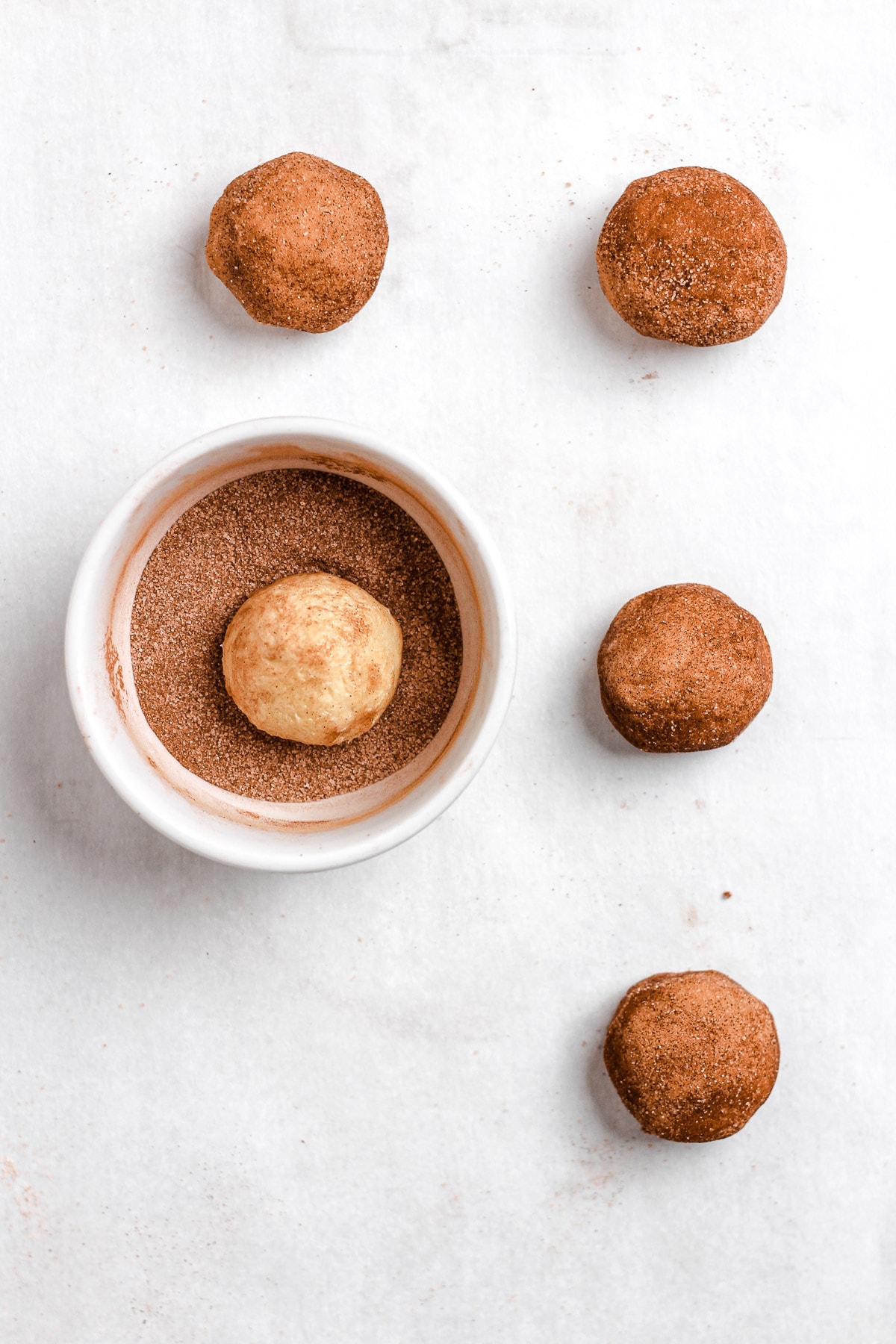 Step 7: Roll the cookie dough ball around in the cinnamon sugar until it is fully coated.
Step 8: Place 6 cookie dough balls on your parchment paper-lined baking sheet and bake.
Baking Tips
Leave enough room for the cookies to spread out while baking. Place each cookie dough ball about 3 inches apart on the baking sheet. I typically bake 6 cookies at a time on a standard baking sheet.
Bake the cookies on the center, slightly upper rack in the oven. If you bake the cookies too low in the oven, you'll risk burning the bottoms of the cookies.
Don't overbake your cookies or forget about them in the oven, they can burn easily when left in the oven for too long.
Let the cookies cool on the baking sheet when you remove them from the oven. They will continue to bake just a bit while they cool down.
Bake at 350°F for a flatter, chewier cookie. Bake at 375°F for a slightly thicker, fluffier cookie. Baking time does not change. I like these cookies both ways, but typically choose 375°F when making this recipe!
Frequently Asked Questions
Are snickerdoodles sugar cookies?
Snickerdoodles are very similar to sugar cookies, however, snickerdoodle cookies have a few differences. Unlike sugar cookies, snickerdoodles are made with cream of tartar and rolled in cinnamon sugar which gives these cookies a distinct texture and flavor.
Can you freeze snickerdoodle cookies?
Yes, you can freeze snickerdoodle cookies! You can freeze unbaked cookie dough balls in a freezer storage bag to bake off later. Keep in mind that cookies baked from frozen will likely have a different texture and appearance than freshly baked cookies.

You can also freeze baked and fully cooled snickerdoodles. Place the cookies in an airtight container or freezer bag, separating the layers with parchment paper. Snickerdoodle cookies can be stored in the freezer for 2-3 months. Thaw baked frozen snickerdoodle cookies before enjoying them.
How to make snickerdoodle cookies without cream of tartar?
Cream of tartar is an important ingredient in snickerdoodle cookies, as it helps activate the baking soda and gives the cookies their signature tangy flavor. However, if you don't have the cream of tartar, there are still a few ways to make snickerdoodles.

You can try substituting baking powder for the cream of tartar and baking soda. Use 2 teaspoons of baking powder for every 1 teaspoon of cream of tartar. The use of a lot of baking powder may alter the taste of the cookies.

You can also try using lemon juice or white vinegar in place of cream of tartar. For each ½ teaspoon of cream of tartar, you can use 1 teaspoon of lemon juice or white vinegar. Using these alternatives may affect the flavor and texture of your cookies. I recommend following the recipe as it is written in the recipe card for the best results.
Equipment
No specialized equipment is needed for this recipe. The essential tools required are a standard baking sheet, parchment paper, a mixing bowl, a hand or stand mixer, measuring cups and spoons, a rubber spatula, and either a cookie scoop or a spoon.
Storage
Room Temperature
Store cooled snickerdoodles in an airtight container at room temperature for up to a week. Cookies are best enjoyed a few days after baking.
Freezing Instructions
Store cooled snickerdoodles in a freezer-safe container or storage bag for up to 2-3 months. Thaw at room temperature and enjoy!
More Recipes You'll Love
Looking for other recipes like this? Give these recipes a try:
Print
Recipe
Easy Snickerdoodle Cookies
These homemade snickerdoodle cookies are perfectly soft, chewy and sweet. They are rolled in cinnamon sugar and bake in under 10 minutes! Snickerdoodles are such a classic cookie and definitely a favorite for their sweet vanilla flavor and soft, chewy texture. This recipe makes about 2 dozen or 24 cookies.
Author: Marley Braunlich
Prep Time:

15

Cook Time:

10

Total Time:

25 minutes

Yield:

2

4

1

x
Cookie Dough:
1 ¼

cup

granulated sugar

¾

cup

salted butter, softened

1 teaspoon

vanilla extract

2

eggs, room temperature

2 ¾

cup

all-purpose flour, spooned and leveled

2 teaspoons

cream of tartar

1 teaspoon

baking soda

¼ teaspoon

kosher salt
Cinnamon Sugar:
2 tablespoons

granulated sugar

2 teaspoons

ground cinnamon
Instructions
Cream together sugar, softened butter and vanilla until light and fluffy.
Beat in room temperature eggs one at a time so the sugar and butter don't separate.
Use the spoon and level method to measure the flour into a mixing bowl. Add cream of tartar, baking soda and salt and stir to combine. Slowly add the flour mixture into the wet ingredients and mix to form the cookie dough.
Preheat the oven to 375°F and line two large baking sheets with parchment paper. Scoop cookie dough and roll into 1 to 1 ½ inch balls.
Make cinnamon sugar by mixing sugar and cinnamon in a small bowl. Roll the cookie dough balls in the cinnamon sugar to fully coat.
Arrange cinnamon sugar-dusted cookie dough balls on the lined baking sheet at least two inches apart. Do not flatten the dough balls. This recipe makes 24-26 cookies depending on the size you roll.
Bake cookies at 375°F for 10 minutes. Keep a close eye so they do not burn on the bottoms. Store snickerdoodles in an airtight container for a week!
Notes
Fresh cream of tartar is the key to making the best fluffy snickerdoodles.
Do not over-bake or bake on the bottom rack, the cookies may burn on the bottom.
See recipe blog post for more baking tips.
Keywords: snickerdoodle cookies, snickerdoodles, cinnamon sugar, sugar cookie, crinkle cookie
LET US KNOW WHAT YOU THINK!
Did you try this recipe? Leave a ⭐️ review below and tag @bakedabundance on Instagram & Facebook!