These Dark Chocolate Peanut Butter Cup Blondies are gluten-free, cut back on the sugar and still taste amazing! They only bake for 20 minutes. Easy to make and delicious!
Buttery chocolate chip blondies layered with creamy peanut butter and dark chocolate. You'll never crave a packaged candy bar again!
This is a dessert that will have you coming back for more! I'm not lying when I say that I sliced one of these large squares in half telling myself that's all I needed... yeah YOU KNOW I went back for that other half!! And maybe another little slice after that. These nut butter dark chocolate blondies are too good to pass up. 🙂
These Dark Chocolate Peanut Butter Cup Blondies Are Better Than Candy?! Tell Me More.
These homemade peanut butter cup blondies are ten times better than a Reese's cup or Snickers bar. Once you try them, you'll see what I'm talking about!
First of all, the quality of chocolate in these fudgy blondie bars is so much better than what's used in store bought candy bars. Choose your favorite baking chocolate, dark chocolate chips or even melt a chocolate bar with a high cocoa percentage for a luxurious chocolate layer.
Now let's talk peanut butter. I prefer natural peanut butter over the fluffy stuff with sugar and oils that we ate on pb & j's as a kid. Natural peanut butter tastes like the real deal and is healthier for you too! Look for a peanut butter that lists only "peanuts" or "peanuts and salt" on the ingredient list. Natural peanut butter has a stronger nutty flavor and adds that peanut butter cup taste in these blondies.
Finally let's talk about what makes these blondies, blondies! Think of blondie bars as a buttery, chewy base layer like that you'd find on the bottom of a candy bar. We use oat flour, brown sugar, butter and baking soda to make a thick cookie-like bottom layer that brings these bars to life! But this blondie recipe isn't boring, so we're going to add some dark chocolate chunks INTO the blondies for added flavor and texture. YUM.
Tips for Making the BEST Chocolate Peanut Butter Blondies!
High quality chocolate chips with a high cocoa percentage is the secret to making the BEST homemade bark thins. Look for chocolate chunks that list chocolate or cocoa as the first ingredient instead of sugar.
Here's some links to my favorite dark chocolate chips that I use for all of my healthy baked goods.
Another tip to remember when making this chocolate bark is to not overheat the chocolate! Chocolate melts quickly and burnt chocolate will not taste very good. Be sure to microwave your chocolate chunks at 30 seconds intervals and stir frequently to get the perfect smooth melted chocolate.
Everything You'll Need
Butter: I always use salted butter because it adds the perfect balance to sweet and salty desserts. Salted butter always!
Peanut Butter: Natural peanut butter is my go-to! Look for only peanuts or some salt in the ingredients when choosing a natural pb. But, regular fluffy peanut butter still works in this recipe.
Oat Flour: I like to blend whole rolled oats into oat flour at home. Oat flour is less processed and adds some extra nutrients to baked goods. You can substitute all-purpose flour though!
Salt: Add a little salt to bring out the salty peanut butter flavor and balance out the brown sugar.
Brown Sugar: If you're going to use refined sugar, use brown sugar. Brown sugar beats regular sugar in my book any day!
Baking Powder: This is our rising agent in this recipe to make the blondie bars rise while baking.
Egg: This recipe calls for an egg to bind our ingredients together and make chewy blondies.
Vanilla Extract: A little vanilla extract never hurt anybody! Add some vanilla to enhance the flavor of this chocolate peanut butter cup dessert.
Chocolate Chips: Any chocolate chips will work here! However, I always use high-quality dark chocolate chunks with a high cocoa percentage.
Coconut Oil, optional: Melting your chocolate with some coconut oil will make spreading the final layer on these blondie bars much easier. But, you can omit the coconut oil if you don't have any. Just be careful spreading out your melted chocolate so it doesn't mix into the peanut butter layer.
Chopped Peanuts, optional: Want to add a little extra crunch? While the chocolate layer is still melted, sprinkle some chopped peanuts on top of your blondies.
Need to make a substitution?
Less Sugar?
You can try swapping the brown sugar for coconut sugar or pure maple syrup. (I haven't tested this recipe with any substitutions so let me know how it turns out if you do change up the sugar.)
Sub Nut Butter?
Of course regular peanut butter will still work great in this recipe. Almond butter and cashew butter would also be delicious! Sub your favorite seed butter like sunflower butter to make this recipe nut-free!
Vegan?
Try swapping the egg for a flax egg and use dairy-free chocolate chips for the chocolate layer. Comment if you use a flax egg and let me know how it goes!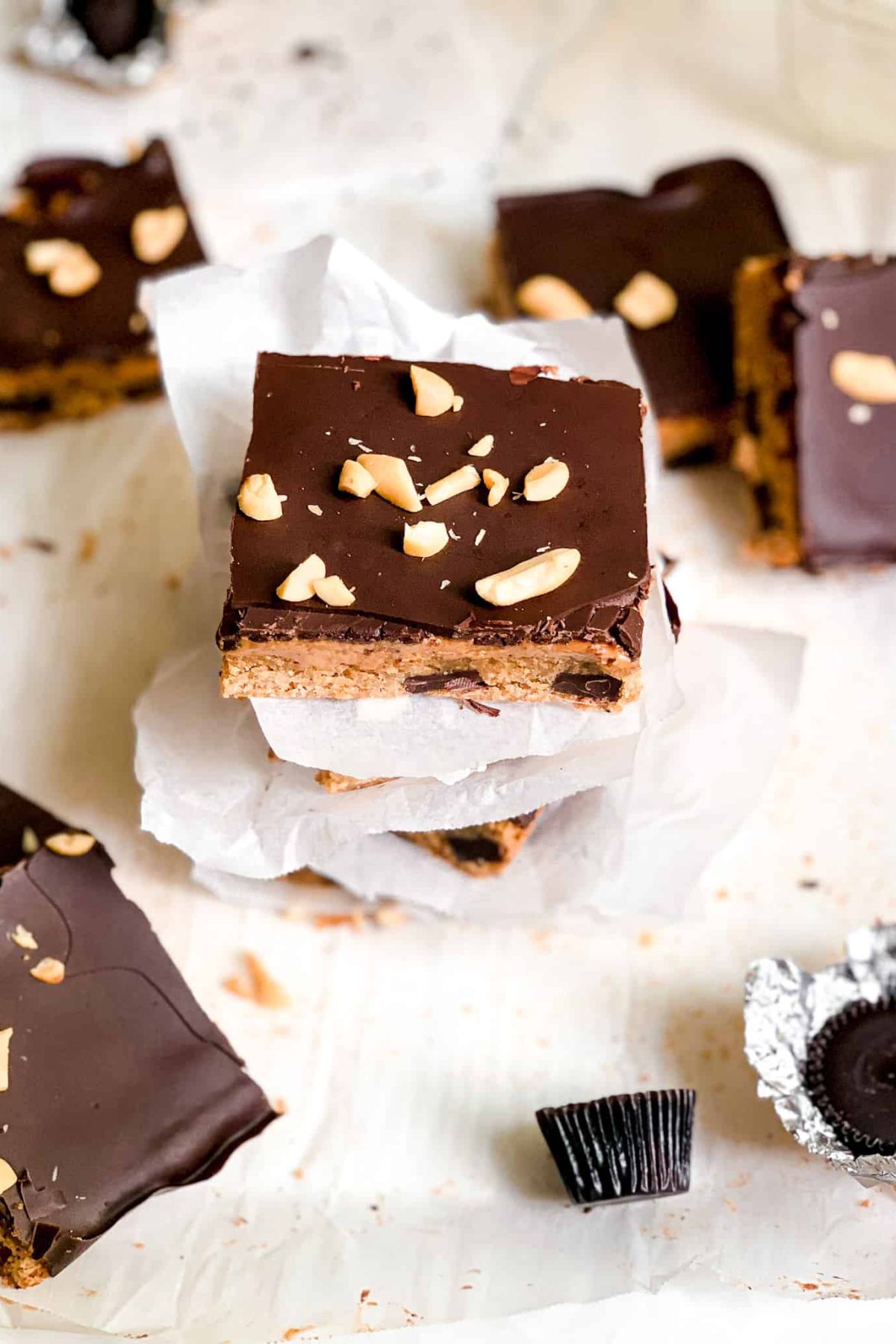 More Epic Dessert Recipes
If you make these ultimate dark chocolate peanut butter cup blondies, be sure to tag #bakedabundance on Instagram. We'd also love if you would leave a comment below and rate the recipe. We appreciate you!
Print
Recipe
Dark Chocolate Peanut Butter Cup Blondies
These Dark Chocolate Peanut Butter Cup Blondie Bars are gluten-free, cut back on the sugar and still taste amazing! Only bake for 20 minutes!
Blondie Bars:
6

T salted butter, melted

¼

cup

natural peanut butter

½

cup

brown sugar, packed

1

cup

oat flour (blended rolled oats)

¾ tsp

baking powder

¼ tsp

salt

1

egg

1 tsp

vanilla extract

½

cup

dark chocolate chunks
Topping:
¾

cup

natural peanut butter (first layer)

1

cup

dark chocolate chunks, melted with coconut oil (second layer)

1

-

2

teaspoon coconut oil
Optional: chopped peanuts or flaky sea salt
Instructions
Line an 8x8 baking dish with parchment paper and preheat oven to 350F.
Melt butter in microwave or on the stovetop. Once melted, mix in ¼ peanut butter until combined.
Add dry ingredients to a mixing bowl: oat flour, brown sugar, salt, baking powder. Stir to combine.
Pour melted butter mixture into the dry ingredients. Then, add egg and vanilla extract. Mix to form a sticky dough.
Fold in the chocolate chips and transfer to parchment lined baking dish. Bake blondie bars at 350F for 18-20 minutes. Edges should be lightly golden and toothpick inserted to center should come out clean.
While the blondie bars are still warm, spoon remaining ¾ cup peanut butter on top. Let sit for a few minute to warm up the peanut butter before gently spreading over the bars.
For the final layer, add 1 cup chocolate chips and 2 teaspoon coconut oil to a microwave safe bowl and microwave at 20-30 second intervals until melted. Stir often. No microwave? Use the double boiler method to melt your chocolate.
Once the peanut butter layer is evenly spread over the blondie bars, pour melted chocolate on top. Hold your baking dish and tilt towards all four corners to let the chocolate run over the bars. This method will ensure the chocolate spreads evenly and doesn't get mixed into the peanut butter layer. 
Optional: Now's the time to sprinkle on some chopped peanuts or flaky sea salt if you want a crunchy topping!
Pop your baking dish into the fridge or freezer to cool for an hour or more until the chocolate sets. When ready, remove the blondies from the baking dish and sit on a large cutting board. Using a sharp knife, carefully slice the blondies into 9 square bars. Store in the fridge for a week!
Notes
Tip: If your natural peanut butter is thick or chunky, top bars with nut butter and put baking dish back into the oven for a few minutes for easier spreading.
Keywords: peanut butter cup, blondie bars, dark chocolate